Call our 24/7 advice line for health care professionals and families if you need support with symptom management and end of life care - 01284 766133.
Music Therapy
What is Music Therapy?
Music Therapy is a form of emotional support that uses music. The aims are therapeutic and the power of music is harnessed in order to work towards mutually agreed aims.
View more singalong sessions and singing exercises
Music Therapy uses the different aspects of music (physical, emotional, cognitive, social and spiritual) to address an individual's needs, while working with their strengths. Music Therapists believe that everyone is musical, and that we all have an innate response to music. Our response to music remains intact, irrespective of age, ability, illness, impairment and mental state.
Virtual Singing Group
The Hospice is now running a Virtual Singing Group, every Monday (except Bank Holidays), from 10.30am – 11.15am. To find out more, please click here.
Musical collaborations during the coronavirus pandemic
At the Hospice, our staff and volunteers often come together to enjoy music.
We haven't been able to do that, not only do we miss sharing each other's musical talents, but we also miss the connections that enjoying a performance together brings.
Oli King, our Music Therapist, decided he wanted to find a way to bring people together to work on something positive, so he has worked with staff and volunteers to produce a number of music videos during the lockdown.
Listen to music
Have you thought about having an at-home concert for yourself and your loved ones?
Music gives a soul to the universe, wings to the mind, flight to the imagination and life to everything.
Close the curtains, put on your favourite CD, record or recording, make yourself as comfortable as possible, close your eyes and listen to your choice of music completely uninterrupted.
Listening to music is a powerful thing to do and affects many areas of the brain. The wellbeing benefits are enormous and are becoming increasingly well documented. Music can help with pain and anxiety management. Listening to music is also known to enhance, and even change our mood – so it is important to choose our music wisely.
Music is good for many things: relaxation, dancing and moving, doing the housework, singing along, reminiscence and much, much, more.
Don't worry if you don't have your favourite recording to hand, see below for some online resources to get yourself started.
Please note, the links are directed to third party websites. Although we make every effort to ensure these links are accurate, up to date and relevant, St Nicholas Hospice Care cannot take responsibility for pages maintained by external providers.
BBC Sounds has a massive variety of free-to-access high-quality music in a range of musical genres.
YouTube has developed into a versatile resource and also has many free historic recordings on it.
Classical Music Magazine has written an article on live streaming of concerts. Note: this will be dependent on latest health developments:
Spotify is an excellent subscription-based online music streaming website.
For those interested in Jazz: https://www.jazzradio.com/pianojazz
Absolute 60's: https://planetradio.co.uk/absolute-radio-60s/
Scala radio: https://planetradio.co.uk/scala-radio/
I think music in itself is healing. It's an explosive expression of humanity. It's something we are all touched by. No matter what culture we're from, everyone loves music.
What can happen in Music Therapy?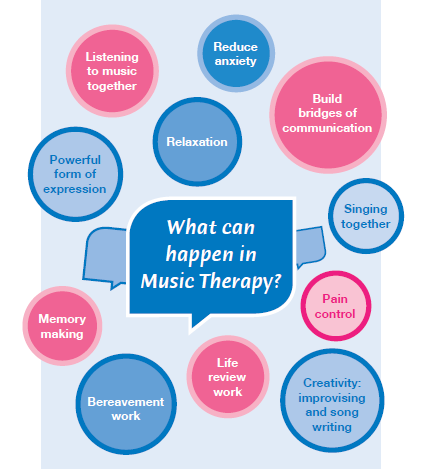 Music Therapy can also help when verbal communication might be difficult due to illness or disability.
Music Therapy can take place in groups, with families and loved ones, or individually.
You do not need any previous experience of playing an instrument.
I enjoyed all of it, music means so many different things to everyone - it evokes lots of memories.
How can I use music at home?
Music has many different purposes and can be really useful for general living:
What kind of music gets you up in the morning?
What music helps you do the cleaning and exercising?
What music helps you to relax?
Do you know any songs that get you up and energized?
What music makes you feel happy?
What music brings back positive memories?
Gentle singing can also be useful for breathlessness.
Joining a choir also provides a great social opportunity.
Do you, or have you ever played a musical instrument? Playing an instrument can bring enormous satisfaction – is it time to dig that old clarinet or guitar out of the attic?
Could you listen to or watch a concert on the radio or TV?
Music Therapists are trained at Masters Level and are state registered with the Health and Care Professions Council (HCPC). They receive regular clinical supervision by an experienced therapist, and undertake continuing professional development.
If you have any further questions about Music Therapy, please contact Oli King, the Hospice's Music Therapist by emailing enquiries@stnh.org.uk.