Call our 24/7 advice line for health care professionals and families if you need support with symptom management and end of life care - 01284 766133.
Hospice Neighbours and Community Connectors
Hospice Neighbours is a community-based and volunteer-led project that provides practical support and valued companionship to people and their families with long-term and life-threatening illnesses. It helps between 120 and 150 people at any given time.
In 2015 Hospice Neighbours won the prestigious Queen's Award (awarded at a Buckingham Palace Garden Party). This Award celebrates excellence in voluntary activities carried out by community groups.
How can Hospice Neighbours help?
St Nicholas Hospice Care understands that when you are living with dying the world doesn't stop so our Hospice Neighbours may be able to help by:
Visiting for a cup of tea, offering companionship and a listening ear

Providing practical support

Helping to stay connected to your friends, family and the community

Directing you to important support services which may help
For more information, please call 01284 719638 (monitored answerphone) Monday-Friday or email Hospice.Neighbours@stnh.org.uk.
Click here to read more about the development of Hospice Neighbours
Volunteer and be part of something
If you have a little time and could pop-in to visit someone locally, we'd love to hear from you.
As a volunteer, you can make a real difference to the quality of life of others and become an important part of a dedicated and valued team.
We are on hand to support and guide you in your role. If you are interested or would like to have an informal chat about the role, please get in touch with Genaya or Louise at Hospice.Neighbours@stnh.org.uk.
...Being a Hospice Neighbour fits perfectly into my life. I have gained so much from being involved and have met so many amazing people...
Listen to Trevor and Pam's story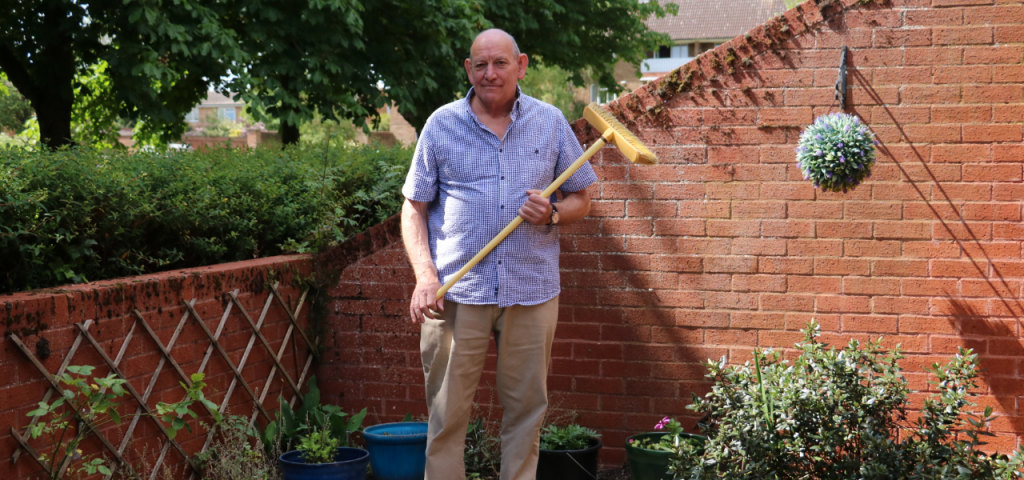 For the last several years Trevor Byford has been volunteering for St Nicholas Hospice Care as a Hospice Neighbour, giving his time to support Pam.
Trevor visits Pam once a week and helps out in her garden, something Pam appreciates and when the flowers bloom gets enjoyment out of seeing them.
Community Connector Team
Linking internally within the Hospice and externally with local partners in both the statutory and voluntary sectors our Community Connector aims to co-create compassionate communities through an Asset Based Community Development.
If you'd like to find out more about the team, please click here.
You can contact directly by emailing community.connectors@stnh.org.uk or calling 01284 719638. 
Acts of kindness and the difference they can make
Working in partnership we've created a video that highlights the ways people can support each other when facing dying, caring and grief.
Alongside colleagues from Suffolk County Council and Offshoot Films, St Nicholas Hospice Care's Hospice Neighbours Team has created a video showing the importance of neighbourliness and how small acts of kindness really can make a difference.