Call our 24/7 advice line for health care professionals and families if you need support with symptom management and end of life care - 01284 766133.
Talking to children about death
Talking to children about death or the long term illness of a loved one can be very difficult. There is no 'right thing' to say, only what is 'good enough'.
Based on their age and level of understanding, sometimes 'good enough' is simply a case of sitting with them so they know you are there and letting them start the conversation. This is particularly true of teenagers.
Doing something while you talk can help to make it easier: drawing; walking or a long car journey – anything that keeps hands busy while the mind thinks. Never force your child to talk, just let them know you are there when they want to.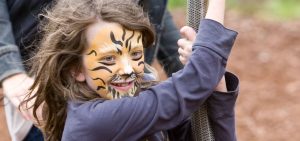 Reactions to news can be varied and their expression of emotion may change over time. They may not react initially but then cry or get angry later, they may even laugh. This is all perfectly normal. When a death is sudden it can be a lot harder to talk about. If you have some news try to make sure the environment is right; that there are no distractions (such as phones or television); it is in a safe place (at home where possible); with something to help express feelings (perhaps a bear to cuddle or a ball to kick).
Talking about illness and death is as much about listening as it is about telling. Children have their own views and questions which are best answered as honestly as possible. If you do not know the answer, tell them you don't know but will share with them when you do. Never make promises you cannot keep.
Ultimately, conversations between bereaved children and their care-givers make a relationship stronger, making it better for families to cope as a whole.
You can contact the Family Support team for more advice on how to speak your child by email family.support@stnh.org.uk.