Call our 24/7 advice line for health care professionals and families if you need support with symptom management and end of life care - 01284 766133.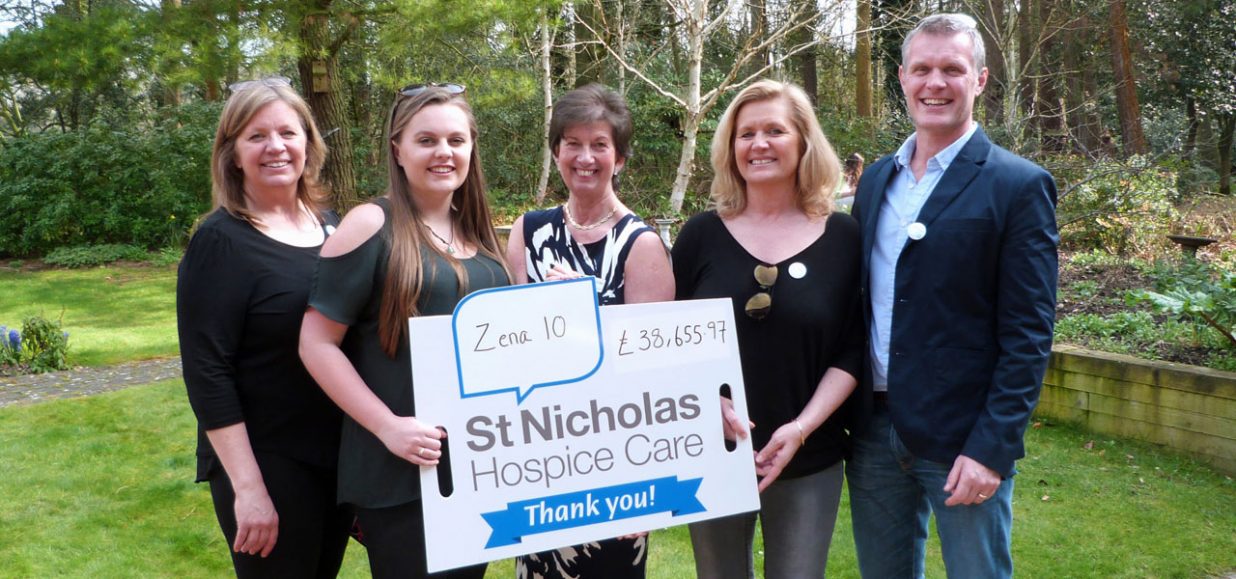 Zena inspires £38,000 fundraising drive
Father and daughter Darren and Connie Gibbs launched their Zena 10 fundraising last June, which marked the 10th anniversary of the death of Darren's partner and Connie's mother Zena Butcher, 37.
They launched a series of events in aid of St Nicholas Hospice Care, including a 10km run, 1,000-mile cycling challenge, 10 peaks walk, giant team for the Hospice's Girls Night Out walk, non-uniform days and a charity ball in October to mark the end of the campaign.
They initially hoped to raise £10,000 for the Hospice, which helped the family through Zena's six-year battle with a malignant brain tumour. However, Darren, Connie, family and friends visited the Hospice to hand over the grand total of £38,655.97.
Darren said: "We have been overwhelmed with the help, support and generosity of all those who got involved in the 36 events and, of course, all those who kindly donated. It is a fitting tribute to Zena and we hope the money can be used to continue the amazing work of St Nicholas Hospice Care."
Some of the money raised will help to fund Nicky's Way, the Hospice's children and young people's bereavement programme, which helped Connie and Darren after Zena died in 2005.
Georgina Bissell, St Nicholas Hospice Care Community Fundraising Manager, said: "We are extremely grateful to all those who contributed to Zena10 in order to make this total possible. From a charity ball to a 1,000 mile-cycle challenge, the effort and support for the Hospice has been inspirational.
"We would like to personally thank Darren, Connie, Tracey and Mandy for supporting the hospice through Zena 10 last summer, and for the difference these funds will make to our child bereavement services and all those cared for by the Hospice."