Call our 24/7 advice line for health care professionals and families if you need support with symptom management and end of life care - 01284 766133.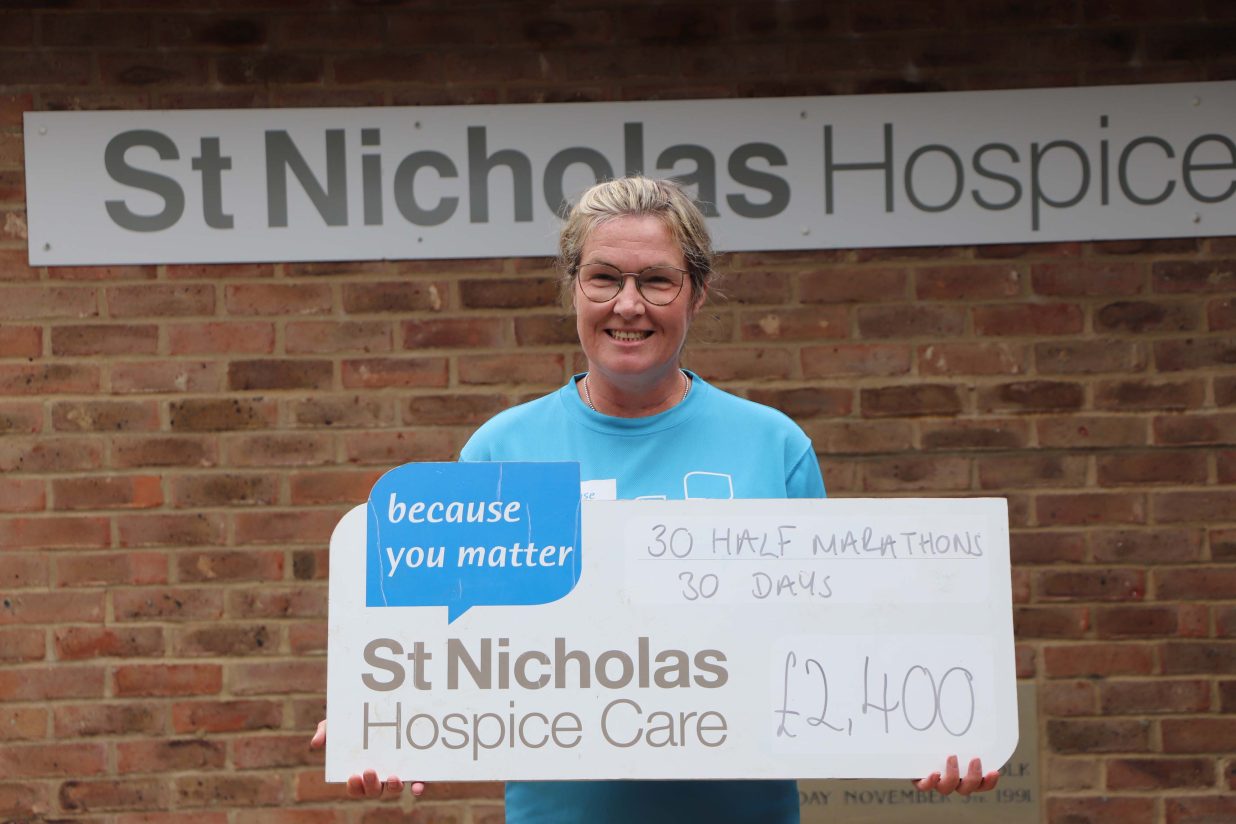 Melanie will keep running for St Nic's
With more than 300 marathons already under her belt, a hospice fundraiser will don her running shoes again as she takes on a brand new 10K, all in the name of a good cause.
Melanie Furness, a specialised nurse practitioner who works throughout Norfolk, will be heading to the start line for the St Nicholas Hospice Care 10k Run when it takes place on Sunday, 8 October.
Organised by the hospice, the event, supported by main sponsor Jaynic, will raise funds towards the charity's work to care for those across West Suffolk and Thetford facing dying, death and grief.
Melanie, who is a world mega marathon runner and currently ranked 924th in the world, has previously put in the miles for the charity with lots of fundraising activities, the most challenging of which was her 30 marathons in 30 days in 2021 and London Marathon in 2022 as she ran it with long covid.
She explains: "Thirteen years ago, I had health problems, and I was inspired by Paula Radcliffe and said I would run the London marathon as a 40th birthday present to myself.
"Since then, I have completed many fundraising events raising £60,000 for different organisations. I like to inspire others who think they can't complete a 10K.
"Thirteen years ago, I couldn't run a single mile. So don't doubt yourself. It's not about how fast you can complete a 10k. It's reaching the destination that's important."
The St Nicholas Hospice Care 10k will follow a circular route and will be partly held on closed roads. Runners will set off (and finish) from Angel Hill and continue through the Abbey Gardens, up towards Moreton Hall.
An event village on Angel Hill will give runners and supporters a lively atmosphere before and after the race. Music can be enjoyed, and there will be various stalls to explore.
All finishers will receive well-deserved medals and post-race refreshments. A dedicated water stop will also be available at the 5k mark to ensure runners remain hydrated throughout the challenge.
The event is organised in collaboration with Nice Work, a professional race management team, and it will be a UK Athletics licensed chip-timed race.
For more information and to register for the St Nicholas Hospice Care 10K, please click here. Sign-up fees are £20 UKA affiliated and £22 non-UKA-affiliated.