Call our 24/7 advice line for health care professionals and families if you need support with symptom management and end of life care - 01284 766133.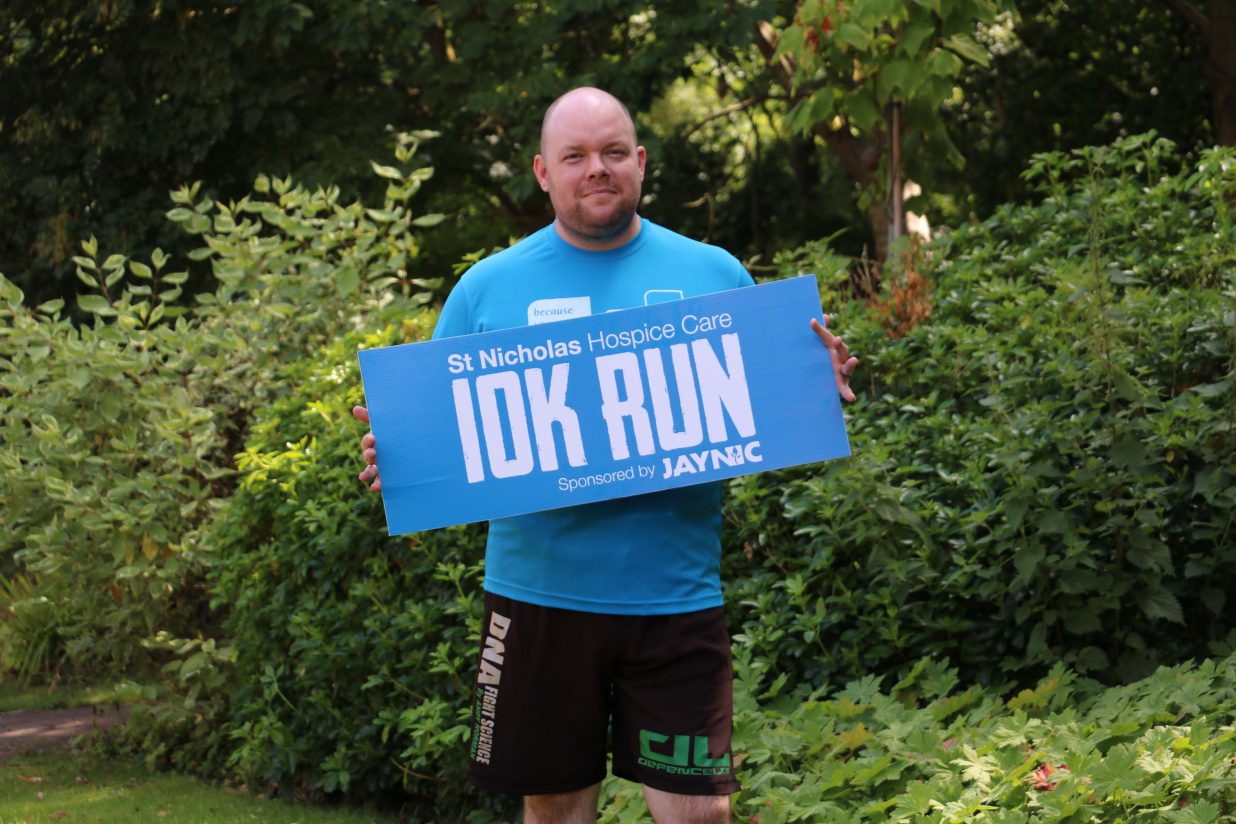 Lee is all set to take on 10K
Hospice fundraiser Lee Graham will be among those lining up to take part in a charity's first 10k run in Bury St Edmunds.
Lee Graham will be pulling on his running shoes and taking on the St Nicholas Hospice Care 10k Run when it takes place on Sunday, 8 October.
Organised by the Hospice, the event, supported by main sponsor Jaynic, will raise funds towards the charity's work to care for those across West Suffolk and Thetford facing dying, death and grief.
Lee said: "I haven't done a 10k before, and I'm not a natural runner, but I am looking forward to giving it a go. I'm already mixing up my gym routine, which usually focuses on martial arts, to prepare me for the 10k. It's good to have a focal point and something to aim for.
"I will do anything that I can to help the Hospice.
"My dad was supported by the Hospice in 2010, and after I lost dad, I decided I wanted to support the Hospice however I could."
Following his dad Ian's death, Lee, who now works as the Hospice's corporate fundraiser, has gone on to arrange the popular series of Just Push Play gigs, which, having started in 2015, fittingly bring together both Lee and Ian's love of music.
The next Just Push Play festival is taking place at The Apex on August 5, and it will be the fifth year it has taken centre stage at the venue, having previously taken place at the Constitutional Club in Guildhall Street.
Lee adds: "At the time, the Hospice was amazing, and ever since, they have been amazing. They helped my dad when he needed it most, and I am now lucky enough to work for the hospice, and I continue to see the difference everyone makes.
"There's only one place I'll ever fundraise for, and that's the Hospice."
The St Nicholas Hospice Care 10k will follow a circular route and will be partly held on closed roads. Runners will set off (and finish) from Angel Hill and continue through the Abbey Gardens, up towards Moreton Hall.
An event village on Angel Hill will give runners and supporters a lively atmosphere before and after the race. Music can be enjoyed, and there will be various stalls to explore.
All finishers will receive well-deserved medals and post-race refreshments. A dedicated water stop will also be available at the 5k mark to ensure runners remain hydrated throughout the challenge.
The event is organised in collaboration with Nice Work, a professional race management team, and it will be a UK Athletics licensed chip-timed race.
For more information and to register for the St Nicholas Hospice Care 10K, please click here. Sign-up fees are £20 UKA affiliated and £22 non-UKA-affiliated.