Call our 24/7 advice line for health care professionals and families if you need support with symptom management and end of life care - 01284 766133.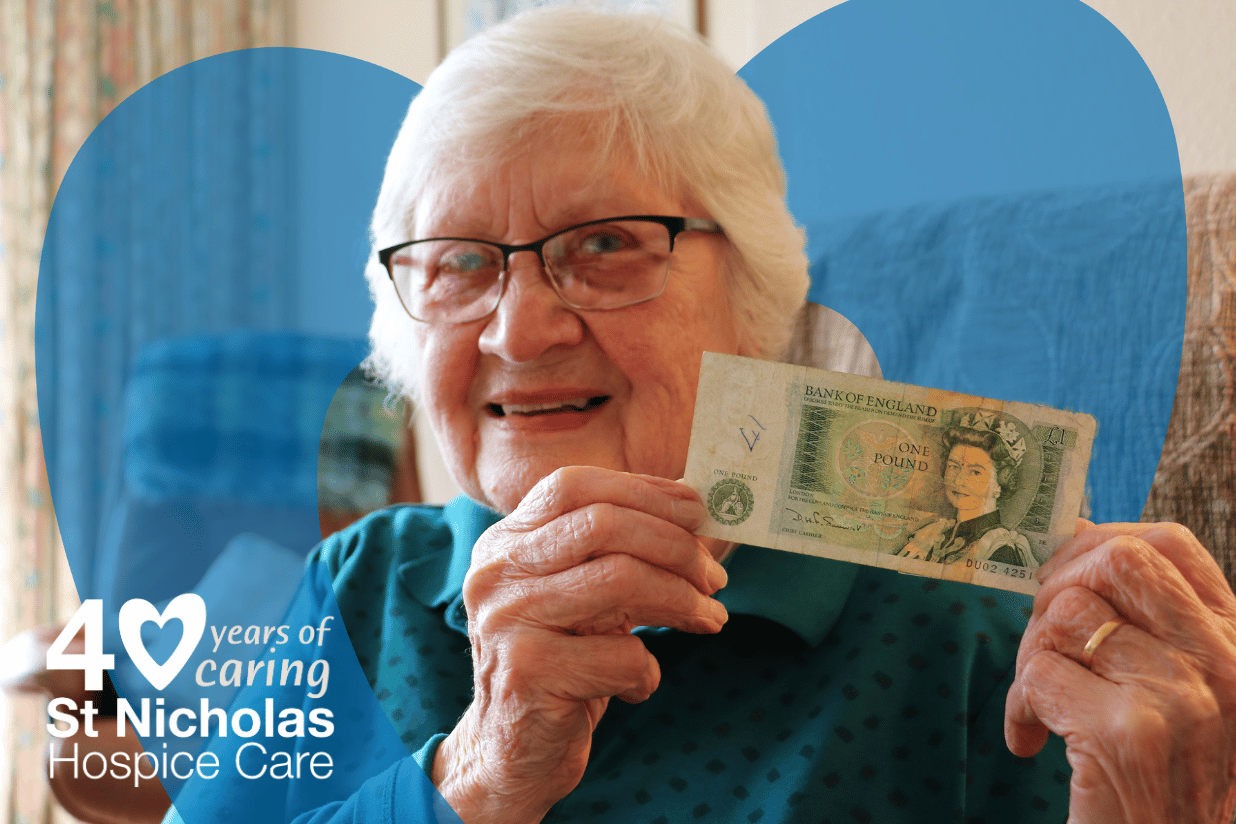 Joyce Norburn
Joyce Norburn was married to our founder, Richard, for more than 50 years and shared four children plus their grandchildren together.
Just as Richard immersed himself in the Hospice, so did Joyce. The pair regularly attended events, and following Richard's death in November 2017, Joyce has continued to be part of Hospice life.
Joyce reflects that Richard, who was an Anglican minister all of his adult life, was inspired by God to care for people, which is just what he did.
"The husband had to climb stairs to look after his bedridden wife"
Joyce recalls: "Richard was the priest for parishes north of Bury St Edmunds, and as was usual, he did pastoral visiting, and there were three instances in one year that made him think about what the National Health Service (NHS) was able to do and the limits they had.
"One was a farmer who was in and out of hospital after receiving cancer surgery. One was an elderly lady with a cancer that was developing very quickly and could not be cared for by her daughter at home, and the third was an elderly couple living in a council house, and they were very disabled. The husband had to climb stairs to look after his bedridden wife.
"Those three instances made him realise more than anything else that more care than the NHS was able to give to the general community was needed.
Inspired and determined
"Richard shared his thoughts with a colleague, Sally Fogden, who was looking after parishes in the local area, and she was very much in agreement with what Richard was finding in his own parishes. She'd had the same experiences of people wanting further help, so they decided to talk to the diocese's bishop, Bishop John Waine.
"Richard went to see him thinking it was an impossible situation to resolve, but Bishop John was wonderful. He was able to put Richard in contact with a project in Staffordshire who were setting up their own Hospice there.
"We went to visit this Hospice which was near Litchfield, and from there on in, we were inspired by what they had set up in the local community. We came back after that visit and determined that we could do the same in Bury St Edmunds and West Suffolk.
"We started off with God's influence in the chaplaincy, and we were very sure that we had to have that influence, but we knew that we wanted to be for the community. The Hospice is for all faiths, no matter what, or none. So, it incorporates everyone within the community, but we still have the bedrock of our faith."
The Hospice's first nurse
The original idea for a hospice building was to convert an Old Rectory at Ingham, which Richard had spotted as having potential for the project. However, the conversion work proved difficult, and the building was sold and passed into the hands of Dr Edward Barrington Ward.
Dr Barrington Ward went on to join the Steering Committee for the Hospice and offered his house as the venue for steering group meetings whilst the search for a property continued. He later became the Hospice's first Medical Director.
Joyce remembers: "We had been going to get the old rectory at Ingham, but low and behold, it fell through twice.
"Dr Barrington Ward had a practice in Bury St Edmunds, and one of his nurses had just completed a course in aftercare and aftercare for cancer patients. She'd just finished that course, so he seconded her for a few months to be able to set up Home Care.
A major point in the life of the Hospice
"By this time, we had got an appeal going, and the funding would be used to buy Turret Close.
"To know that appeal was being launched was a real major point in the life of the Hospice. It was the foundation of the work that is now going on.
"We have to remember the very beginning and that at the beginning it was (the Hospice) just an idea that was shared between about half a dozen people, and then it developed."
Inspirational figures
Joyce says: "My special memory really would be Lady Miriam Hubbard. She was an inspirational figure. We could not have done the first appeal without her. She had influence and knew people. We were all inspired by Lady Miriam Hubbard.
"We also had an inspirational fundraiser, lieutenant colonel Fulbrook. He, too, was dedicated to the idea of hospice care in this area."
Compassion for everyone
"The Hospice today has had to face challenges that were unexpected and unthought-of when we first thought of it (the Hospice) 40 years ago, but I feel that we are still maintaining the idea of compassion and support of people in the community."
"The Hospice is a special place, and I think that is because it was set up with compassion for other people. The compassion was not only for the patients that were poorly, it was for their families, the staff and all the volunteers that work alongside the Hospice, and that continues to this very day."
Do you have a story about your connection with St Nicholas Hospice Care?
In our 40th year celebration, we want to highlight the many contributions in our Hospice's history.
We're aiming to proudly feature 40 faces across the year, could you be someone who has a story to share?
If you are someone who has a fond memory to share, you can do so here.