Call our 24/7 advice line for health care professionals and families if you need support with symptom management and end of life care - 01284 766133.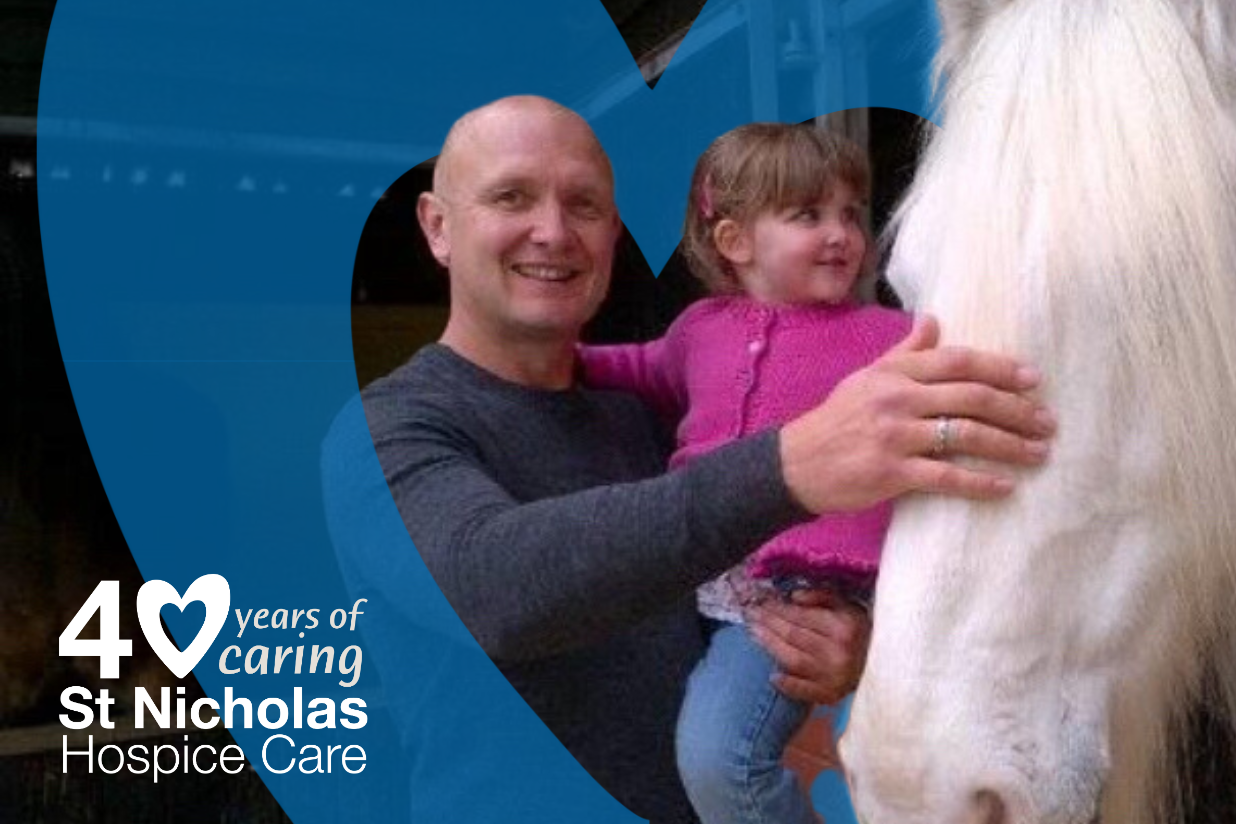 The Birch Family
"I said I wanted a hat, two guns, a sheriff's badge and a ride in a Porsche."
When Birchy gave his best friend Jonny Boreham a wish list, he never believed it might become a reality, with a boys' game of cowboys and Indians ending in a spin in a supercar.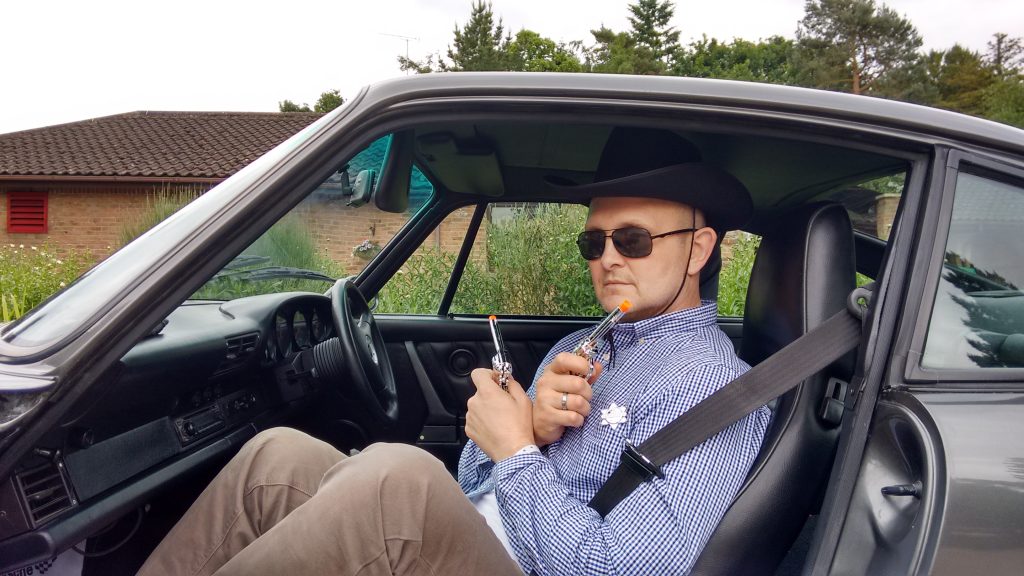 Birchy was whisked away for the drive in the Porsche 911 Turbo on June 19, 2015, and at that time, he'd been a patient on our ward for three weeks.
At the time, Birchy said: "He told me to tell him whatever I wanted, and he would do it. I said I wanted a hat, two guns, a sheriff's badge and a ride in a Porsche.
"I thought he would never manage it, then on Friday he turned up in the Hospice car park, 'honk honk'. I walked out there and he had the guns, badge, hat – and the Porsche. So then off we went for a little spin around all our old haunts.
Birchy went on to say: "I'd never been in a Porsche before and I had always wanted to. The thrill of it, when I saw the Porsche, was immense. Jonny borrowed it off his father-in-law, which was the height of generosity itself, because if I had a Porsche I wouldn't lend it to anyone.
"I made this random wish list of things I wanted to do off the top of my head, but it meant we could play cowboys and Indians together, like boys do. He's been an incredible friend to me – I can't thank him enough. It was a great surprise. I think he wanted to cheer me up a bit, and he certainly did that."
"You can be my wife now, not my nurse"
Jo and John 'Birchy' Birch met in 2005, married in 2007 and had their daughter Madeleine in 2011. Jo says:
"Birchy was diagnosed with small cell lung cancer in January 2015. When he was diagnosed, we were told that it was stage four.
"He had chemotherapy, but he was in so much pain, for him it was unbearable and for me to watch it was unbearable. It was a doctor at the hospital who suggested that we get in touch with the Hospice as they might be able to offer some advice on how to get Birchy's pain under control.
"To say he was against going to the Hospice would be an understatement. We didn't know what to expect, the only experience we had was what we had seen on television and in films. We imagined a dark, depressing place filled with death. We had a three-and-a-half-year-old daughter and were worried about how she would be affected by seeing her dad in a hospice.
"We couldn't have been more wrong. The minute we walked through the door we were overwhelmed with a sense of peace and comfort. It's such a happy, friendly place and that radiates from the staff. We walked in and it was like we were at home.
"From when Birchy was diagnosed in the January to him going on to the Hospice's ward in the May, I had been his nurse. I had done everything. I don't think I had realised just how much time that had taken, how much time together we had lost.
"I'll never forget him turning to me when he was in the Hospice and saying, "you can be my wife now, not my nurse". As well as so, so much else, that's what the Hospice gave me – the chance to be a wife again. They gave us the gift of time together and we soaked it up."
"I've never felt so loved"
On July 4, 2015, Birchy celebrated his 49th Birthday at the Hospice. His party was a chance for him to spend quality time with his family and friends.
Jo reflects: "The Hospice garden is just beautiful, we were in the garden for his birthday surrounded by friends and family, he looked up at me and said, "I've never felt so loved". That's what the Hospice gave him. He had a wicked sense of humour and he enjoyed making all of the nurses' laugh. The Hospice's amazing catering team helped with some food and the nurses all popped in for cake when they could.
"That day gave so many friends and relatives the chance to see him and say goodbye but with happy memories of him surrounded by laughter and love."
Dream come true for football fan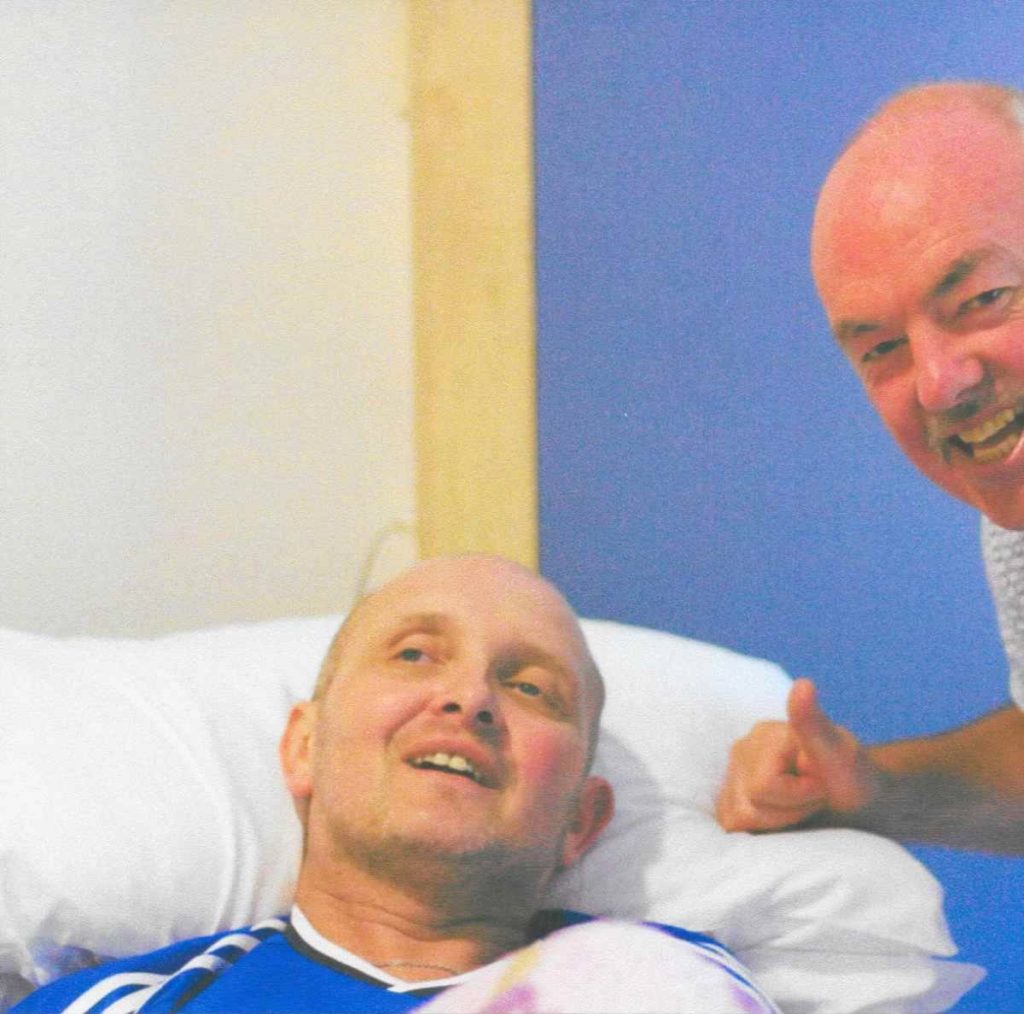 Birchy loved Ipswich Town and John Wark, who had played in the UEFA cup winning team, was his hero, his friend Jonny tracked him down and he visited him at the Hospice on his birthday.
"That was such a special moment," remembered Jo.
Birchy died four days later on July 8, 2015.
"He was a wonderful dad"
Jo continues: "We were able to spend time with our daughter Madeleine as a family. He was a wonderful dad, he adored Madeleine, and she absolutely adored him. While he was at the Hospice they had the chance to spend time together.
"Madeleine loved being at the Hospice, as well as looking after Birchy, the staff looked after us all, and that continues even now.
"During Birchy's final days, the staff couldn't have been more amazing, anything Birchy wanted they did, they were also wonderful to us, his family, his sister, cousins, mum, all of us.
"From the very start, from when he was diagnosed, Birchy didn't want to know anything about the cancer, his treatment – nothing. All he would say was, "just tell my wife". The Hospice respected that, they were kind, compassionate and honoured his wishes."
"Our last special gift"
"When he did pass, I suppose I'd always expected that it would be dramatic, but it wasn't, it was beautiful, it couldn't have been more perfect if he'd have written it himself. The last thing he said to me was that he loved me, one of the nurses put his arm around me and he passed, it was beautiful. What happened next might sound strange, but I fell asleep, I slept next to him for an hour and a half, it was our last special gift.
"I always say that the Hospice staff and volunteers are angels, to me they always will be, for those precious few weeks they gave me my husband back and they gave our daughter her daddy. I will be forever grateful."
Birchy's legacy
Following Birchy's death, Jo, Madeleine and their family and friends have continued to support the Hospice through a variety of fundraising events, including family fun days, a music festival, and cake sales.
During the pandemic, Jo set up a Sew for St Nic's Facebook group and pulled together a team of sewers to make scrubs, syringe driver bags and surgical mask 'ear savers' for St Nic's and items for other healthcare organisations too.
Birchfest is born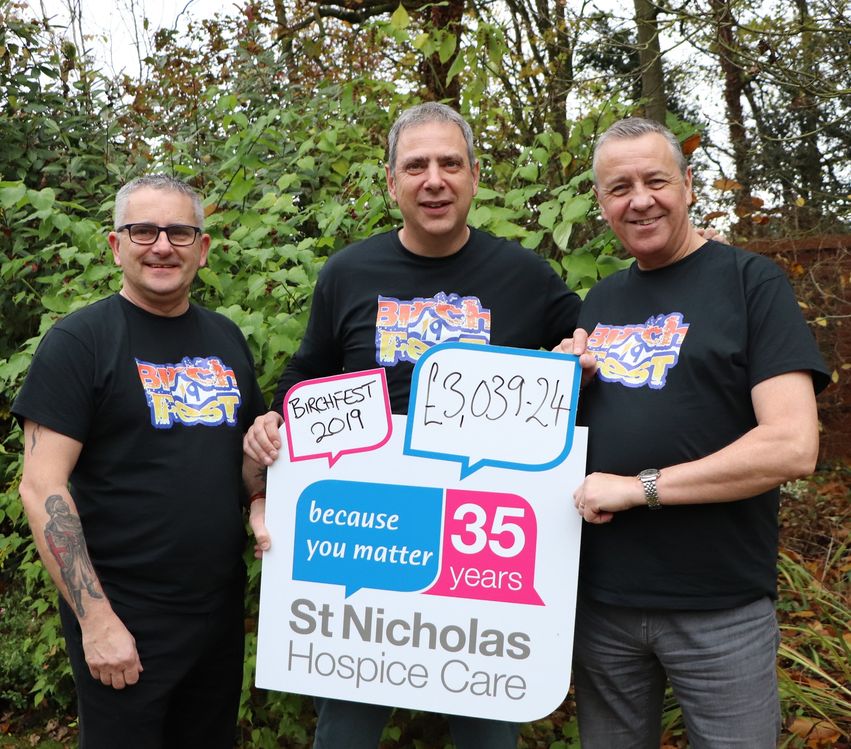 Whilst being cared for at the Hospice, Birchy and his friend Johnny Boreham were watching the Glastonbury Festival in his room. Birchy had just turned 49 and he told Johnny he wanted to take him to Glastonbury 2016 to celebrate his 50th birthday.
Birchy died a few days later and in his memory, Birchfest was born.
Organised by Johnny and his wife Anne, as well as Jo, this family festival first took place in 2016, with proceeds going to the Hospice.
In 2019 the occasion raised an amazing £3,039.24 for the Hospice, and as a surprise for Jo a special guest also attended, as one of the nurses that cared for her husband travelled from Wales to enjoy the event and surprise her.
Do you have a story about your connection with St Nicholas Hospice Care?
In our 40th year celebration, we want to highlight the many contributions in our Hospice's history.
We're aiming to proudly feature 40 faces across the year, could you be someone who has a story to share?
If you are someone who has a fond memory to share, you can do so here.