Call our 24/7 advice line for health care professionals and families if you need support with symptom management and end of life care - 01284 766133.
Online gaming
Whether playing with a closed party of friends, or livestreaming to a network of followers, online gaming can be a simple way to raise money for St Nicholas Hospice Care.
Follow this guide on how you can set up a gaming fundraising event.
Livestream fundraise with JustGiving
JustGiving allows your spectators to donate without using cash, secure in the knowledge that their donation will be going directly to the charity.
JustGiving have also partnered with Twitch to help deliver an easy, effective and safe way to fundraise through gaming.
New to livestreaming? Visit www.justgiving.com/inspiration/ideas/streaming/gettingstarted for a step-by-step guide.
1. Getting Started
Choose your game and schedule your stream (don't forget to tell us too!)
Next, set up your JustGiving page.
Then, add a Donate Button to your Twitch livestream.
2. Ready, Set, GO!
Now all that's left is to get your event underway!
During your livestream, be sure to give regular shoutouts and remind your viewers that you are raising money for us.
Be safe! Take regular breaks and keep hydrated, especially if you're doing a long gaming marathon. Don't do anything dangerous or illegal, and please make sure you are following the most up-to-date government guidance when completing any activities that require you to leave your home or have contact with others.
3. Get In Touch
Keep St Nic's and anyone else involved informed at all stages of planning and carrying out fundraising activities. Let us know about your gaming event and how much you've raised by tagging us on social media so we can celebrate afterwards! If you have any queries at all, please contact enquiries@stnh.org.uk.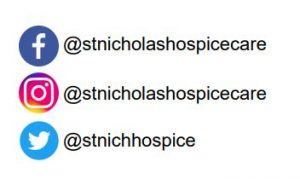 Important Information
Appropriate Content
Please be considerate about the choice of game you decide to play when gaming and streaming whilst fundraising for St Nicholas Hospice Care. As an organisation, we don't promote violence or sexual content, and we hope that you are understanding of that. If you have any concerns over the content of someone's stream you can let us know by emailing enquiries@stnh.org.uk.
Under Age Participants
If you or others taking part in fundraising are under 16, please check with your parents and/or guardians before undertaking any online gaming fundraising events. Anyone of any age can have a JustGiving fundraising page, but anyone under the age of 13 will need to have a parent or guardian's approval.
Take extra care where children are involved in online gaming fundraising events. There must be adequate supervision and vigilance at all times to protect young people from risk. For more advice please visit www.thinkuknow.co.uk/11_13/need-advice/gaming/
Safeguarding
Safeguarding actions include protection from abuse/neglect, preventing impairment of health and development and promoting people's welfare and safety. Safeguarding is a shared responsibility between fundraising event organisers and St Nicholas Hospice Care, and relies upon effective communication and action. Consider if you are likely to come into contact with individuals in need of additional safeguarding. Please refer to St Nicholas Hospice Care's Safeguarding Policy, and you can email enquiries@stnh.org.uk for any further queries. For further advice and resources concerning the safety of children and young adults during online gaming activity, visit www.ceop.police.uk/SafetyCentre/
Disclaimer: All of the above information is intended as guidance only. Full consideration should always be given to each event and the relevant local authorities and other interested parties should be consulted. The laws mentioned are UK law—please consider all applicable laws and regulations and if you are unsure, always ask for guidance.
Thank you for your support!
St Nicholas Hospice Care is a local charity providing help, advice and support to people in West Suffolk and Thetford in the final chapters of their life, who are living with long-term and life-threatening illnesses.
Our services are not just for patients, but for their family and friends too. They include everything from specialist medical care to bereavement support and practical help.
St Nicholas Hospice Care is in need of support now more than ever. Covid-19 has had an immense effect on how we are able fundraise; closure of our high street shops and postponement of mass participation events has left considerable gaps in our funding. Virtual fundraising events such as online gaming livestreams help to close that gap and allow us to continue to provide vital care and support within the community.