Call our 24/7 advice line for health care professionals and families if you need support with symptom management and end of life care - 01284 766133.
Take part in the Thetford Open Gardens Charity Prize Draw
Bag a mystery bag for the Hospice
Entry to this draw is now closed. A huge thank you to everyone who bought tickets. The draw takes place on Friday 2 April.
Help make a difference by taking part in this charity prize draw, organised by the team behind Thetford Open Gardens. All entries help fund the services and care the Hospice provides.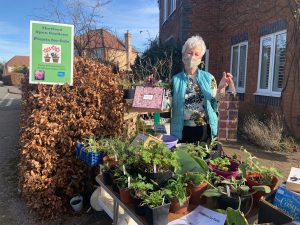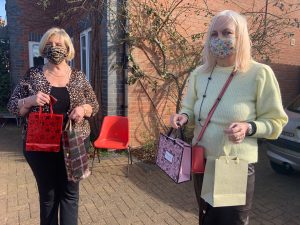 The team is offering the chance to win one of 40 mystery bags, containing a whole host of donated items.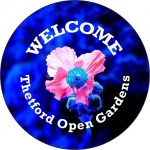 A very big thank you to Rachel Woods, Suzanne Norman, Susan Dowling and Karen Emma White for their ongoing support. Since the pandemic began they have continued to raise funds for us. They've sold plants, baked delicious cakes and biscuits, made bird boxes and hedgehog houses and much more besides.
Tickets for the draw cost £5 each and can be purchased using the form below.
Thetford Open Gardens has some lovely surprises for you in our endeavour to help St Nicholas Hospice Care.

We have filled 40 bags with lots of exciting things and are having a prize draw for you to win one. We are selling tickets just for the next three weeks, so your chances of winning are VERY high!

The bags are filled with wine, Prosecco, delicious edible treats, toiletries or books and one special one will contain a cake from Sue's kitchen just in time for Easter.

So hurry and enter as the draw will take place on 2 April and your winning bags can be collected from 28 Arlington Way Thetford IP24 2DZ on 3 April between the hours of 10am and 2pm, or by arrangement.

Other events

On 3 April at 28 Arlington Way there will be an extra special plant sale, book sale and cake sale for those living locally and taking their daily exercise past the door.

We are delighted that Thetford Open Gardens will take place on Sunday 27 June. After this very difficult year there may not be quite so many gardens open and we have decided to limit the numbers, so as to avoid crowds. We know that our gardeners are looking forward to welcoming you back, so put the date in the diary and watch out for more information in May. Tickets will be on sale through www.leapinghare.org or in the Everything Thetford shop and information centre on Kings Street.

On Sunday 6 June some extra special gardens will be open to showcase their roses. Again limited tickets will be available from www.leapinghare.org but all proceeds of course go to St Nicholas Hospice Care.

You can follow us on Facebook and Twitter and Instagram or get in touch via thetfordopengardens@gmail.com.
The prizes
The 40 bags contain items such as bottles of wine and prosecco, delicious edible treats, toiletries or books and one special one will contain a cake from Thetford Open Gardens co-organiser Sue's kitchen just in time for Easter.
Thank you to everyone who has generously donated prizes.
Please gamble responsibly
Your entering and taking part in Thetford Open Gardens Draw is very much appreciated, but not at any cost. Please take care to only pay for what you can afford. Should you wish for any further information or advice on problem gambling, please see our Responsible Gambling page here or you can visit www.gambleaware.co.uk or www.gamcare.org.uk for more details.

How to take part
Entry to this draw is now closed.