Call our 24/7 advice line for health care professionals and families if you need support with symptom management and end of life care - 01284 766133.
Ipswich Town Football Club help spread festive cheer with hospice visit
A trio of Tractor Boys took some time away from the pitch to spend time with patients, staff and volunteers when they visited a the hospice.
Bearing gifts and goodwill, Ipswich Town Football Club players Teddy Bishop, Jonny Williams and Cole Skuse paid a festive visit to our  Bury St Edmunds hospice where they were warmly welcomed by patients, staff, volunteers and family members.
Miranda McCoy, St Nicholas Hospice Care Community Fundraiser said: "We were delighted the players gave up their time to visit our hospice to chat to people, sign autographs and have photos taken. There was a real buzz around the hospice when they arrived and that continued to spread throughout their visit.
"The highlight of the afternoon was seeing the looks on people's faces as they walked in. This visit lifted everybody's spirits and will be talked about with family and friends for a long time. Thank you to all the players who came along, and everyone at the football club who contributed to the gifts given to patients."
During the visit on Tuesday, 6 December the players spent time with Orchard Day Centre patients and handed out gifts bought by the team, including blankets.
This isn't the first time a football club has gotten involved with us here at St Nicholas Hospice Care. To read more click here.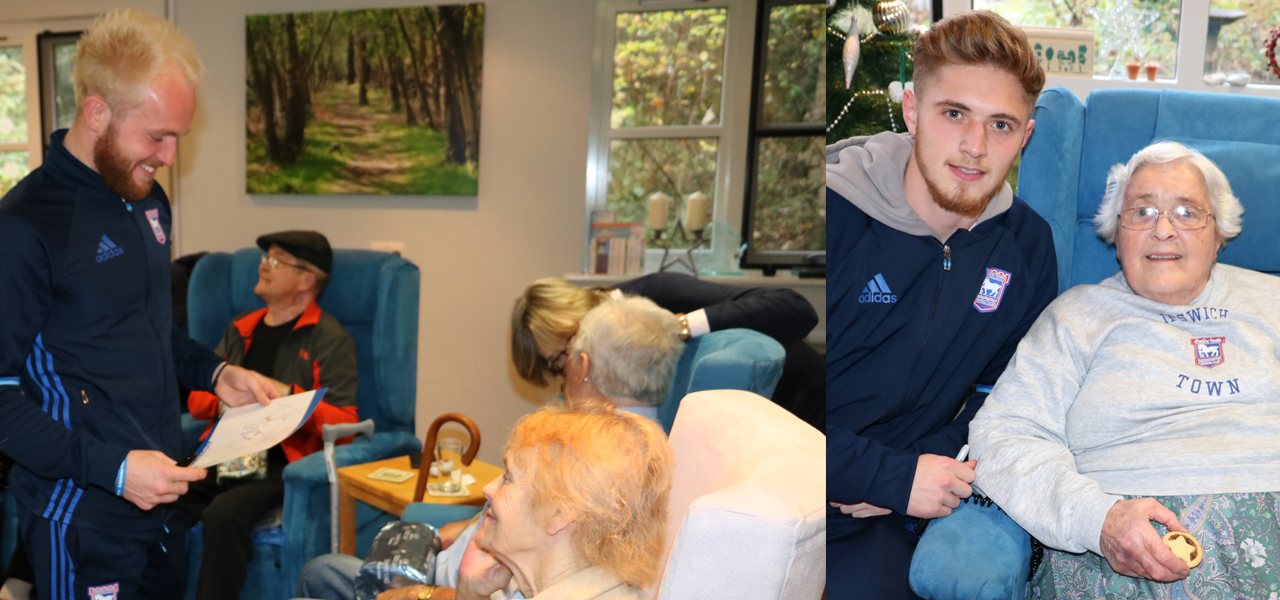 After leaving the Orchard Day Centre the players visited the hospice's inpatient Sylvan Ward, where they were greeted by enthusiastic patients, nurses and nursing assistants.
In addition to handing over gifts to patients the players handed over six crates containing groceries, which the Hospice's Catering Team will use when cooking wholesome meals over the coming days.
The food parcels were paid for by the players themselves, along with help from East of England Co-Operative Society.