Need to talk?
Call our 24h help desk.
Women take fundraising in their stride
Putting their best feet forward has seen a group of women who collectively walked hundreds of miles for charity stride their way to thousands for a local hospice.
Members of Slimming World groups in Littleport, Mildenhall and St Neots wore their pyjamas and flashing bunny ears with pride when they took part in the Girls Night Out moonlight walk, in aid of St Nicholas Hospice Care, on Saturday, 10 September.
With the team's monies now counted the efforts of the Mildenhall Marvels, Mandy's Lovelies and Sharon's Superstars have raised £21,420.77 for the hospice, which provides care for those across the community who are in the final chapters of their lives.
Donna Cooper, Mildenhall Slimming World Consultant, said: "Between us we set ourselves a target of £20,000 so to have raised more than that really is fantastic. It really was an achievement for the whole group and showed just what we could all do when we put our minds to it.
"On the night of the walk we had so much support, other members came out of their houses and offered us drinks along the route and the atmosphere was brilliant."
For another wonderful fundraising story involving the women of Slimming World then please click here.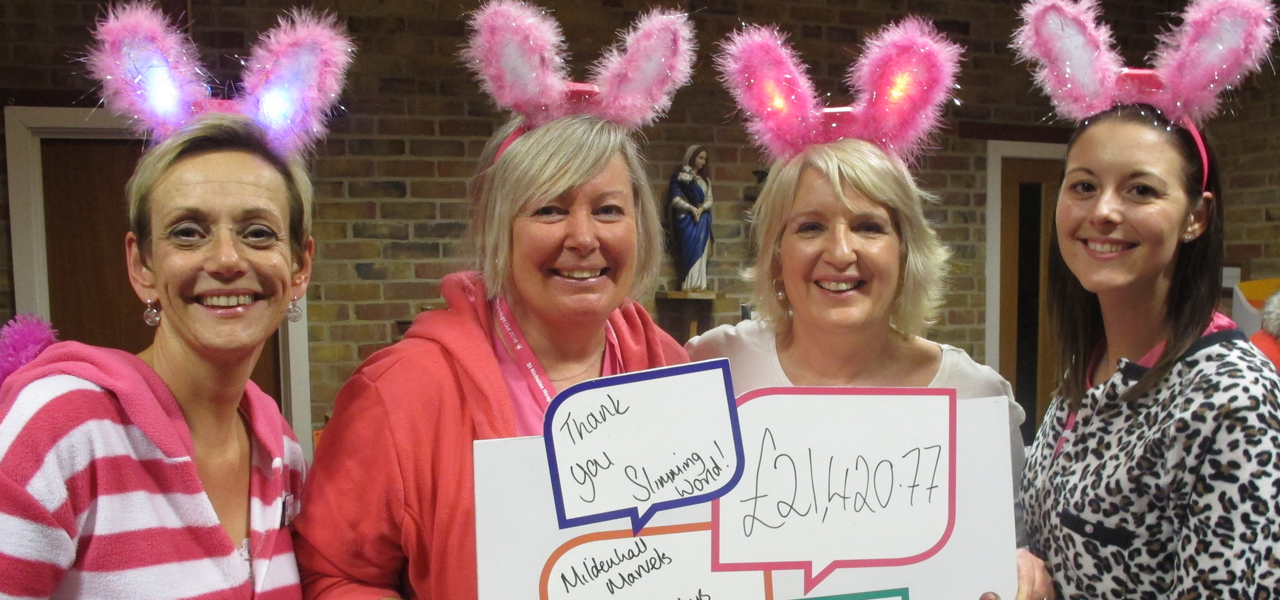 Slimming World consultants Mandy Reeve, from St Neots, and Sharon Heaps from Littleport, worked with Donna to encourage members to join the 194-strong team.
Girls Night Out is a sponsored walk around Bury with two routes – 11.2 miles and six miles. This year more than 2,400 women registered to walk. Next year's Girls Night Out walk is on Saturday, 9 September 2017.