Call our 24/7 advice line for health care professionals and families if you need support with symptom management and end of life care - 01284 766133.
Knights rose to the occasion and raised thousands
Gallant fundraisers proved their strength as they conquered a fundraising challenge to raise thousands.
The new obstacle challenge event, Battle of the Knights in aid of St Nicholas Hospice Care, which took place on Sunday (19 March) at The Playground in Barrow, raised £12,000 for the Hospice.
The event, sponsored by Abbeycroft Leisure and The Playground, saw more than 200 participants complete a 4km run before conquering a 25-strong obstacle course.
Jenny Smith, St Nicholas Hospice Care's events manager, said: "Battle of the Knights was the first event of its kind for the hospice and we are so pleased it has proved to be a success it has.
"We are so grateful to everyone who took part and also those behind the scenes who ensured the event ran smoothly as well as our event sponsors.
"On the day Nick and Phil from The Playground, and their volunteers were fantastic, as were the all of our wonderful marshals who not only made sure everyone was safe, but offered everyone encouragement on the obstacles.
"As a charity we need to fundraise £11,000 a day to ensure that the care and support we provide across West Suffolk and Thetford can continue and for our Battle of the Knights fundraisers to have raised £12,000 truly will make a huge difference. Thank you to everyone who has supported us, and we hope everyone will join us next year as we intend to make Battle of the Knights an annual event."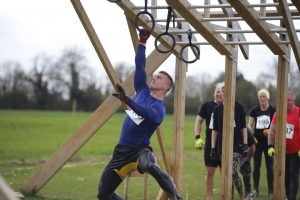 To emerge victorious participants, who could enter as an individual or as part of a team, had to take on obstacles which included a 10ft wall, tyre run, vertical cargo net, incline and decline monkey bars, and hay bale run. You can view more pictures from the event on our Facebook page.