Call our 24/7 advice line for health care professionals and families if you need support with symptom management and end of life care - 01284 766133.
We reveal the amazing total Girls Night Out walk 2021 raised
Hundreds of fundraisers donning flashing bunny ears have put in the miles to raise an amazing six-figure amount for a local charity.
St Nicholas Hospice Care is pleased to announce that its 2021 Jaynic's Girls Night Out walk has raised a wonderful £124,368 for the charity which supports those across West Suffolk facing dying, caring and grief.
The fundraiser, which took place on Saturday, 11 September, saw more than 800 walkers from across the area step out for the cause and complete either six or 11.2-miles around Bury St Edmunds.
Nicola Barber, from the event's main sponsor Jaynic, was among those walking on the night; she said: "We had a fabulous time and are delighted that so much money has been raised for the hospice."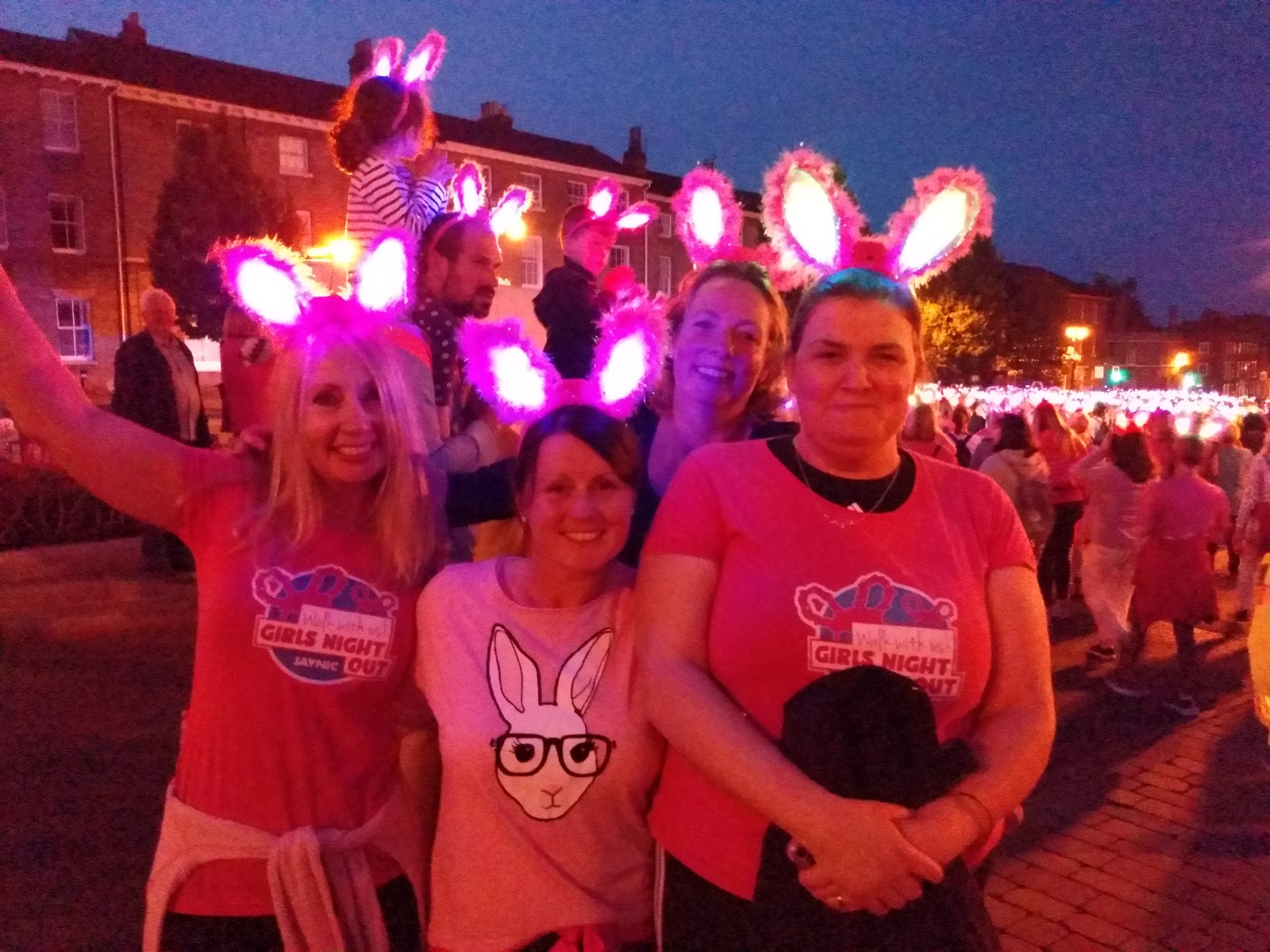 The event, which will take place in 2022 on Saturday, 10 September, was also supported by more than 200 volunteers who gave their time to make sure the walk ran without a hitch.
Charlie De-Moore, the hospice's events manager, said: "I would like to say a massive thank you to everyone who took part and supported 2021's Jaynic's Girls Night Out event. To have raised £124,368 really is terrific.
"Special thanks must also go to our fantastic main sponsors Jaynic and all those local businesses who supported us, including event sponsors Chassis Cab, Ashtons Legal, Sanofi, Haverbury, Greene King, and Countryside.
With the Coronavirus pandemic meaning the charity had to take Girls Night Out virtual in 2020, and then ongoing restrictions creating uncertainty around the 2021 occasion, the funds raised are more important than ever.
At a time when there was so much uncertainty to have so many people behind us coming together and wanting to fundraise and support us was amazing.
Sharon Basson, the hospice's clinical services director, was among those pyjama-clad walkers taking part on the night.
Sharon said: "Having walked as part of Jaynic's Girls Night Out 2021, I was able to experience the event first-hand, and what a special night it is.
"Alongside colleagues, I was able to walk with all of those raising vital funds for the hospice. Many of them walking to celebrate the memories of loved ones that we have cared for. To see how much support the hospice has across our community was humbling and reminds hospice colleagues of our privileged position; to be involved with people and their families at this most difficult of times.
"As part of my role at the hospice, I am able to see first-hand the difference the funds raised from this event make. From the specialist care we can provide on our ward to the much-needed support and advice we can give those across West Suffolk and Thetford facing dying, caring and grief. The generosity we receive makes this possible.
"Thank you to everyone who walked and supported Girls Night Out 2021. You have made such a difference."
Please keep an eye on the hospice's Girls Night Out website and social media channel for further information on when registrations for Girls Night Out 2022 on Saturday, 10 September, open.