Need advice?
Call our 24h help line
Call our 24/7 advice line for health care professionals and families if you need support with symptom management and end of life care.
Our Equip workshops – understanding an Asset Based Community Development (ABCD) approach
Last month we were delighted to welcome Cormac Russell to facilitate two workshops for St Nicholas Hospice Care and members of our community. One hundred and nine hospice staff and volunteers and twenty five people from our local community attended over the two days. It was great to welcome local people from the Rural Coffee Caravan, Suffolk Neighbours, care homes, Our Special Friends, Suffolk County Council's community teams and those working within local health and social care.
The workshops were designed to help us all understand how using an Asset Based Community Development (ABCD) approach would help us deliver our ambition to be part of a community where people feel equipped and able to support each other as we face death, dying and grief.
We started the days hearing about our work with the Mildenhall community, where we have been testing some new ways of working with a community. We found that Mildenahll is already a compassionate community and we learnt how we could make a difference by helping people be more connected to what was already happening in their community. Our work with Mabbs Hall care home showed how equipping the care home staff and helping them to connect to people and support groups in their community led to them starting a group for local people.
Over the two days Cormac talked about why an ABCD method is especially needed in our current healthcare climate when services are stretched and difficult to access. That the care delivered by institutions has disempowered communities and we are missing out on the help a community could give, he suggested that shifting care from hospitals to home care community teams is just shifting people from one institution to another. This has particular relevance to how we deal with death, as death mainly happens in institutions under the supervision of doctors and nurses rather than by families and communities (in Suffolk less than 25% of people die at home).
However, Cormac suggests the problem of institutional care is that we often only ask questions that are relevant to the services on offer in that institution, or so we can 'signpost' people to other institutions.
Like the recommendations in the book Being Mortal by Atul Gawande, Cormac suggested we need to ask people different questions: about their lives, about what is important to them and what good would look like. This made me think about how in hospice care we use holistic assessment, asking about physical, social, spiritual and psychological issues. Although meant well – does a holistic assessment leave enough space for people to talk about what they are good at and what's important to them, rather than what's wrong?
We know people are subject to multiple assessments during their illness and grief, assessments which either enable them to access help or prevent it. I know as a nurse, I used to encourage people to describe their worst day when being assessed for help / benefits. Such a conversation stops us talking about people's strengths and hopes. But I was reminded of a conversation in Australia where people in care homes were asked 'what was important to you?' some just said 'food and getting washed' – just the basics. Cormac suggested that people may also find that difficult to answer because they feel they have nothing to contribute, and perhaps they have lost their sense of value and purpose in life.
So, a conversation which gets to know a person, their family/friends and understands what they are good at and their hopes could be a better conversation.
Whilst there has been a drive over the years to help people be 'independent' Cormac suggested we should do more to promote 'interdependence' and relationships. We know that people's wellbeing is improved if they are part of relationships / groups who would miss them if they were not there. So, we need to do more to help people be more connected to people and develop relationships in their community. This made me wonder that whilst people value the relationships they develop with hospice staff, might we be getting in the way of them developing relationships in their local community?
To try out how we might work with people in communities we practiced some different methods which included: working in small groups, welcoming the stranger, a gift conversation (where we tell people the impact they have on us – more than saying thank you), let people self organise, allow time for pauses to stop and think and use powerful questions. Questions like – tell us about a time when you and your neighbours came together to make things better around here? But above all we need to work with people at the speed of trust.
We heard Cormac use the Humpty Dumpty nursery rhyme to describe a new way of working, and how the king's horses and men (the experts) could not put Humpty together again. But if the community had created a soft nest for Humpty to fall on – he wouldn't have broken!
Cormac made me rethink an image I have used for a while to describe social change – using the metaphor of instead of giving people fish you equip a community to manage fishing.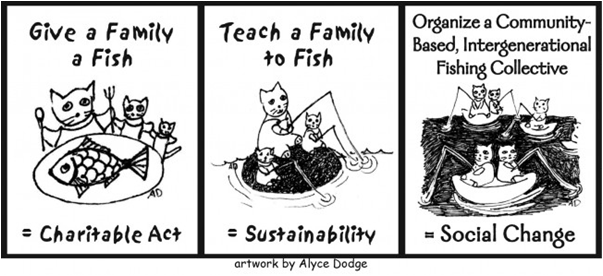 However by talking and listening to a community, you might hear how their river is polluted and if you just gave them the money they might be able to solve the problem themselves.
For me using an ABCD approach with communities is so valuable as it could help strengthen the foundations of a community, which rallies to support those in need of help. But ABCD can also influence hospices in how we work with people and families. Although health coaching encourages people to be more self-reliant, we need to do more to help people connect and reconnect with local relationships, relationships where dying people can give as much as they receive and are still are a part of society, rather than being seen as vulnerable.
As a hospice we are so lucky, we already have strong relationships with so many people and groups in our community. We now need to have different conversations and be curious to hear what is important to them in their community. Such conversations could lead us to understand what our role could be in helping them be better equipped for death, dying and grief.
Perhaps hospices have felt the need to have all the answers when actually we need to ask better questions and be curious about what people in the community are already good at.
Here are the links to Cormac's presentations morning and afternoon