Need to talk?
Call our 24h help desk.
Call our 24/7 advice line for health care professionals and families if you need support with symptom management and end of life care.
St Nicholas Hospice Care's Corporate Supporters Club
Our Corporate Supporters Club is a great way for local businesses and companies to support the Hospice's work across their community.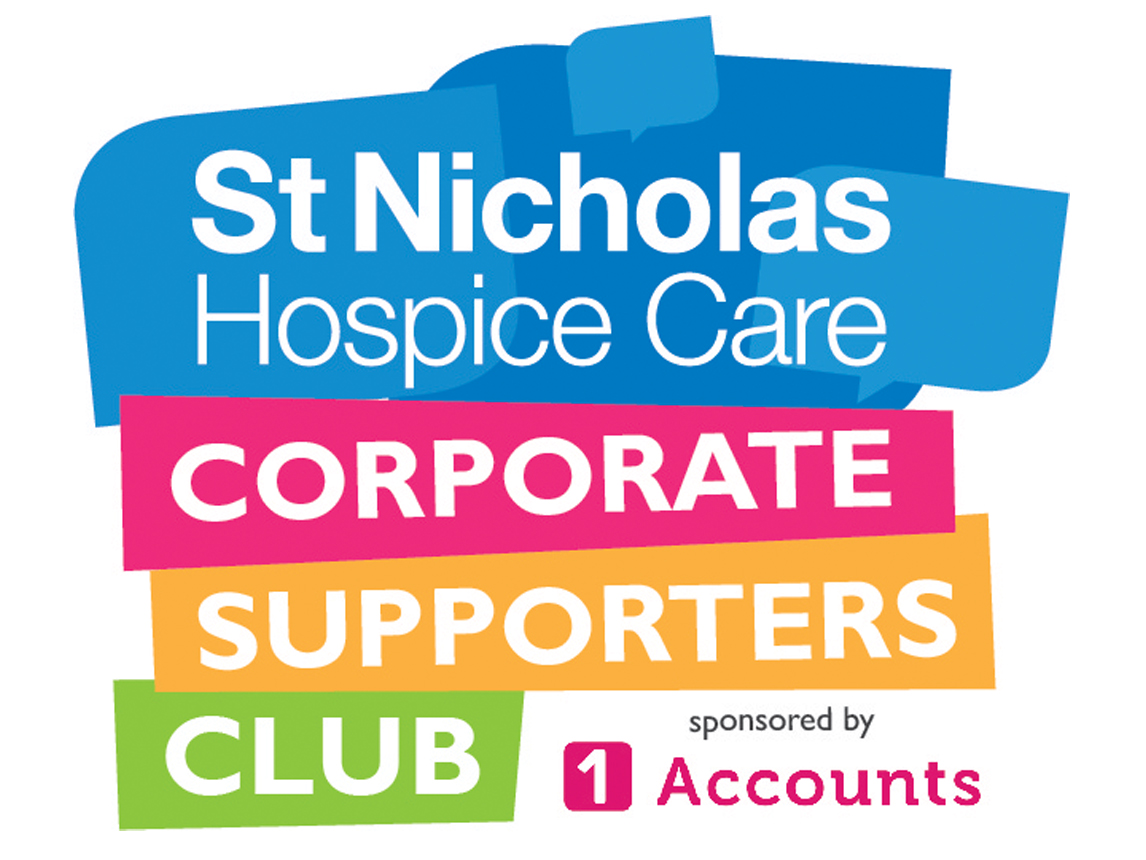 By becoming a member of the club, which is sponsored by 1 Accounts Online, not only do businesses demonstrate their corporate social responsibility, they make a valuable contribution to our vital work and in return can enjoy a selection of benefits.
To be installed as a member of the club business can either make a £300 donation or fundraise the same amount.
This sum will make a huge difference to the work the Hospice does across West Suffolk and Thetford, enabling us to continue supporting those living with dying, caring and grief.
A message from our sponsor
Due to the Coronavirus this year we made the difficult decision to cancel our annual fundraising challenge for businesses The Accumulator Challenge. Last year this challenge was enjoyed by more than 30 businesses and raised £33,274 for us.
Having sponsored the event in 2019, 1 Accounts Online, were all set to support 2020's Accumulator Challenge, determined to keep supporting us, we are pleased they are now our main sponsor for this club.
"These past months have been challenging for all of us but especially for the health care sector.

"Continuing to support the Hospice through these difficult times is imperative as they need the funding more than ever.

"With the Accumulator Challenge being postponed this year we have taken the decision to still support the Hospice.

"We urge other businesses to do the same. Even though the fundraiser has been cancelled, this doesn't mean the Hospice doesn't need it. The team at the Hospice are doing a wonderful job and we will continue to support them for as long as we are able. Well done."
Membership benefits
Certificate to acknowledge your membership of the Corporate Supporters Club
Corporate Supporters Club window decals to acknowledge your membership and promote your support
Company names of Corporate Supporters Club members listed on our website
Use of the St Nicholas Hospice Care brand logo
Support from our dedicated Corporate Fundraising Team.
Join us
Joining the club is easy, please just fill in the form below and we'll be in touch. 
If you have any questions regarding our Corporate Supporters Club, please contact the Hospice's Corporate Fundraising Manager Abby Mayes: abby.mayes@stnh.org.uk