Need advice?
Call our 24h help line
Call our 24/7 advice line for health care professionals and families if you need support with symptom management and end of life care.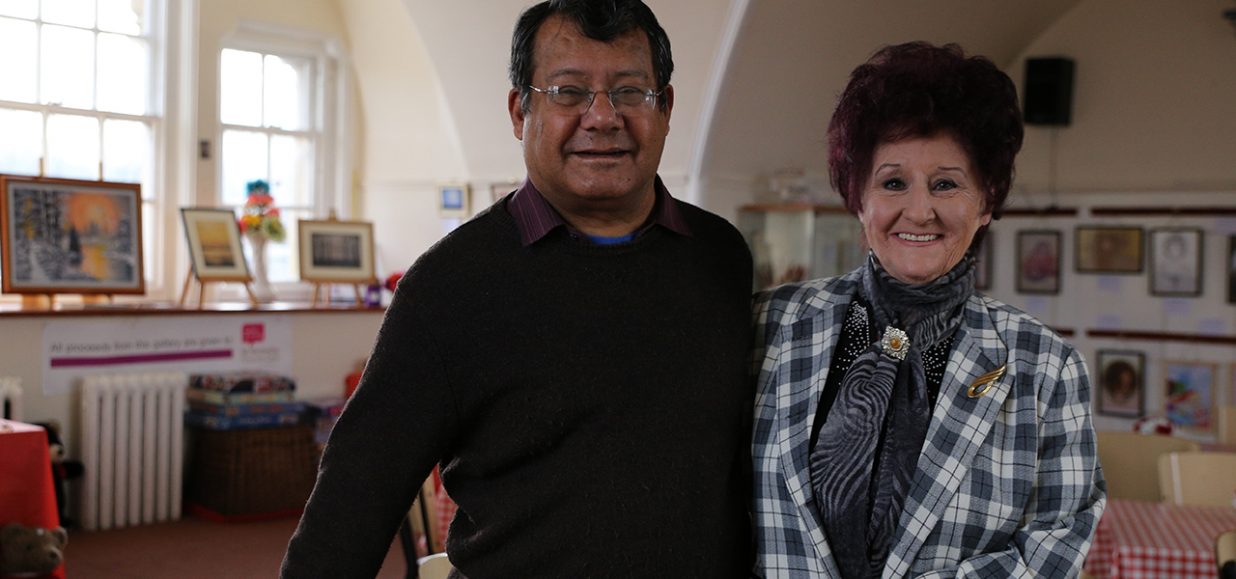 Jack Pilling Art Gallery in Thetford
Since 2011 the Jack Pilling Art Gallery has opened its doors to the public. The light and airy gallery, situated on the top floor of Thetford's historic Guidhall, is open six days a week purely for the benefit of the Hospice.
Already it has raised thousands of pounds, and the dedicated fundraisers at its helm – administrator Pam and treasurer Don Goveia – show no signs of stopping.
Pam's relationship with the Guildhall gallery dates back to 1999, when she was administrator at a former art gallery in the building. After she left various people took it on, but it eventually closed. Pam was asked if she wanted to open the gallery again and, following discussions with Thetford Town Council, she and Don were given the keys. A week-and-a-half later, in March 2011, the Jack Pilling Art Gallery opened its doors to the public, in aid of the Hospice from the start.
"We had been fundraisers for the Hospice for a while, but we said when we opened the gallery that we wanted to give all the proceeds to the Hospice – it was an autmoatic decision for us," said Pam.
In the 10 days before opening it underwent refurbishment, including repainting and new furniture, much of which was donated by McDonalds and the Hospice itself.
Pam said: "But we also needed art on the walls in order to open, so we talked to some contacts about getting an exhibition going. The local artists really did come up trumps and they bought in 75 paintings for our first night."
And that support has continued since, with fortnightly exhibitions booked many months in advance.
Pam said: "Since we opened we have had no problem at all finding exhibitors. Within months we were fully booked for that year and we've been fully booked ever since."
Artists from all over the country have exhibited in more than 400 displays since the gallery opened, while paintings have been sold all over the world, including to America and Australia.
"The visitors' book has a range of different languages in it," said Pam. "We don't know what the comments say, so we just hope it's something nice.
"Thetford definitely needs an art gallery. There is a lot of talent in the town, so the artists need somewhere to exhibit and that is what we can offer."
The couple have manned the gallery Monday to Saturday, 9.30am-4pm, since it opened, only taking their first holiday earlier this year.
"We do it all on our own, but it is like any job: if you enjoy what you're doing it's not a chore. And we do enjoy it," said Pam. "We've met all sorts of people up here. Sometimes it can get quite noisy – and very funny – as we have regular customers who all know each other."
Don added: "The Guildhall is a community building, and this is an art gallery for the whole community.
"We are very passionate about Thetford, we enjoy the Jack Pilling Gallery and we very much believe in the Hospice and what it does."
In addition to the art exhibitions, the gallery offers refreshments daily and fundraising events, such as quiz nights, throughout the year.
"People often come in for a coffee and then, while they are here, take a look at the art and buy something," added Pam.