The Suffolk Whole Hog
Find out more
Where?
Wantisden Hall, Woodbridge, UK
When?
October 9, 2022
Can you go the Whole Hog (30+ obstacles/around 5 miles), or even the Boss Hog (40+ obstacles/around 7 miles)?
If you are thinking of taking on this challenge, why not do so and raise funds for the Hospice.
Last year a team from Neil Evans Fitness, put in the miles and conquered the Suffolk Whole Hog and raised a fantastic £3,600 for us. You can read their story by clicking here.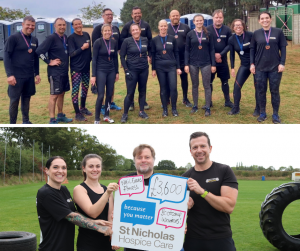 Find out more about this event by visiting its website by clicking here.
Please note, this is an external event not run by St Nicholas Hospice Care. If you'd like more information on the event, please visit the event's website by clicking here.