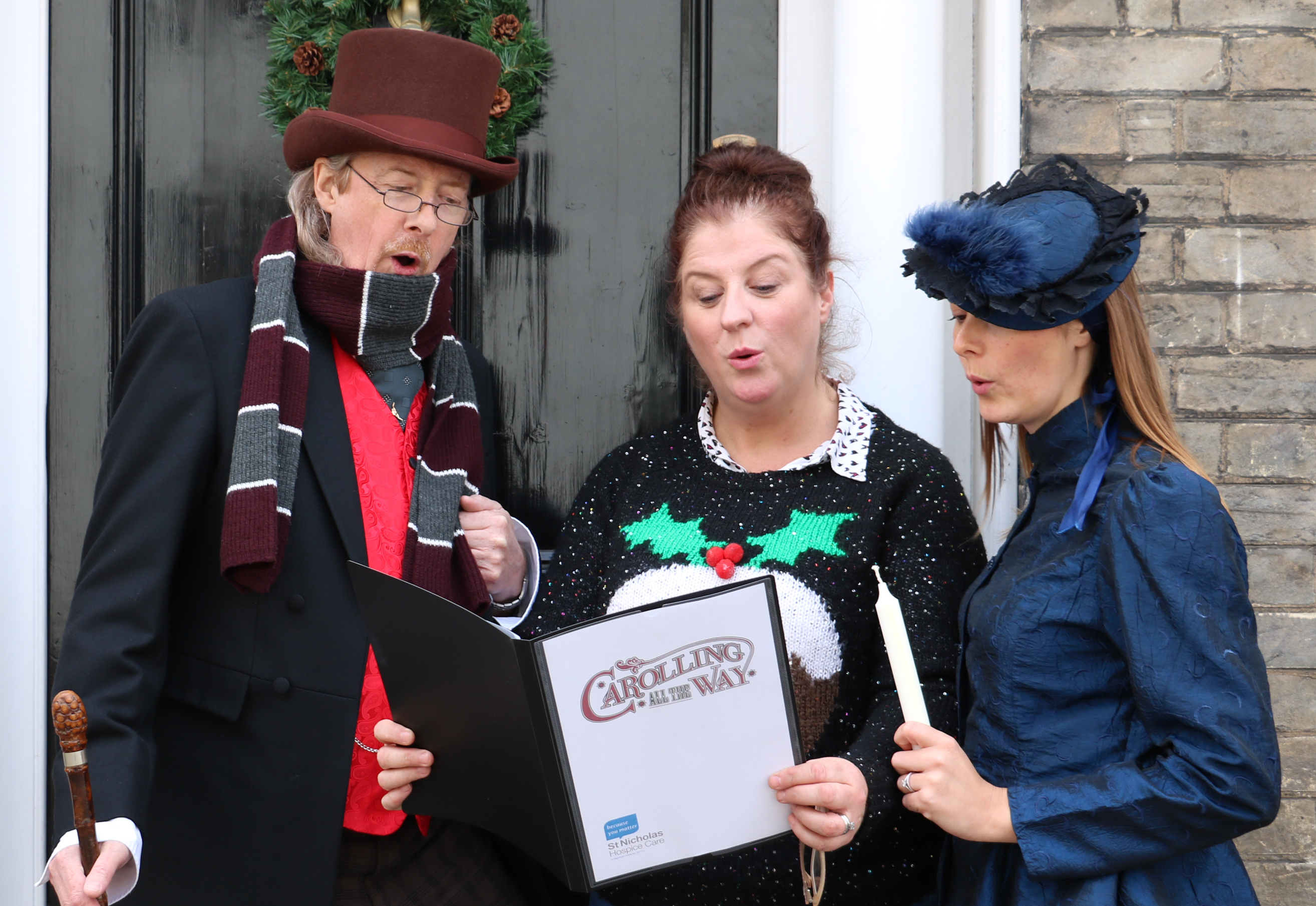 Gather friends and family and spread some festive cheer by 'Carolling All the Way' around your local village or community.
St Nicholas Hospice Care's new fundraising event provides you and your group with everything you need to go carol-singing, including a song book, LED candle, donation buckets and event pin badge.
Taking place from 14 to 16 December, we hope as many people as possible will take part and help fill the weekend with song and festive fun.
Take part and…
Enjoy dressing up in festive wear, from Christmas jumpers to Victoriana or Steampunk style costumes
Have festive fun by carolling door-to-door
Enjoy taking lots of photos of you and your group and post them on social media
Get your friends and family involved. If they don't feel like adding their voices to the event, why not ask them to sell raffle tickets
Get into the spirit of Christmas!
All participants need to pre-register. Please click the link to register to take part.
Terms and Conditions
Registration
Online and paper registrations close at 5pm Wednesday, 12 December 2018.
There is a £5 per person participatory fee, which covers all items included for the event weekend. This fee is non-refundable.
Carolling participants will be expected to conduct themselves in a polite and well-mannered way towards both the public and each other. They should also be aware of their surroundings and make sure to take safety precautions and follow the Highway Code, wherever necessary, in their event area(s).
Registration cont.
Risk assessments will be required for each event group/area and each group will be assisted with this by the event organisers at St Nicholas Hospice Care. Each Risk Assessment needs to be submitted, at the latest, two weeks before the event.
Each Carolling All the Way group will be supplied with raffle tickets, a £20 float and donation buckets. These items are the responsibility of each group leader and must be returned to the Hospice on the following Monday or Tuesday after the event. All donations and raffle ticket monies should be returned to the Hospice by Wednesday 19 December 2018.
Registration Cont.
Participants are not permitted to use any of the donation money raised to pay for anything else relating to the event. All donation money must be given directly to St Nicholas Hospice Care.
After receipt of your entry form and fee, we will issue a letter/email of confirmation of your participation in the event, along with a Collection Event invitation and details of items you will receive at this event. Your place is not confirmed until you receive this.
Registration Cont.
You will also receive ideas and inspiration for your event, therefore the Hospice will supply you with posters to publicise your event/details from 19 November 2018.
Places are non-transferable so if you are unable to attend for whatever reason, you must inform us as soon as possible and we can then inform your group leader.
There is a minimum age of 8 for all participants. All children under the age of 18 must be accompanied by an adult. There is no upper age limit.
Registration Cont.
Dogs are allowed on this event, as long as the rest of your group are happy with the arrangement.
Entrants with limited mobility are asked to notify the Hospice on their application form so that all measures can be taken to ensure an enjoyable event for yourself and others.
Participants are responsible for their own medical condition(s) and ensuring they are fit to take part. Please consult your doctor if you suffer from heart, joint, back or breathing problems or any other medical condition that may affect your ability to take part.
Registration Cont.
If you sign up as an individual looking to be assigned to a group, we will allocate you to the nearest event group taking part or offer you the choice of those most convenient to you.
Participants cannot be under the influence of alcohol at their Carolling All the Way event.
Your email address and registration details from our online registration system may be used, this year and in future years, to make registration even easier for you. Please make sure you provide a valid email address when registering.
Registration Cont.
To keep everybody involved in Carolling All the Way as safe as possible, we aim for all events to finish by midnight. If any part of the event needs a later end time, please inform the Hospice organisers ahead of the event weekend.
We reserve the right to ask anyone to leave the event at any time if you fail to meet our terms and conditions.
Event photography
At the event, representatives from the local media are invited to attend. This includes reporters, photographers and videographers. During the event, they may wish to speak to you, take photographs or record a short interview. It is your decision whether to agree to their request. St Nicholas Hospice Care does not have any influence over how the information you share with them is used, or when and where images may appear. If you have any concerns on the day please speak to a member of the organising team.
Using your data
We must be able to keep you informed of important updates and information regarding this year's event, so we will use your email address and postal details to contact you. Please provide accurate details when registering.