Call our 24/7 advice line for health care professionals and families if you need support with symptom management and end of life care - 01284 766133.
Information regarding our retail services
You can find St Nicholas Hospice Care shops across West Suffolk as well as our online eBay and Amazon shop and Donations Centre, located in Bury St Edmunds.
Last year our Retail Team helped generate an income of over £1 million to support our services for people and their families living with long-term and life-threatening illnesses.
Covid-19 information
In line with government guidance and restrictions, all of St Nicholas Hospice Care's stores are open. In accordance with the latest government guidelines (November 30, 2021), the wearing of masks/ face coverings is mandatory in our shops (unless you have a good reason not to).
The safety of our customers, volunteers and staff remains a paramount concern. In our stores, we follow guidance from the Charity Retail Association.
Our staff and volunteers will continue with the rigorous hygiene measures we already have in place. These include increased hand washing, using hand sanitiser, regular cleaning of touchpoints and enhanced cleaning within shops. Till screens also remain in place, and we encourage contactless payment where possible.
Unless exempt, our staff and volunteers will wear face masks, coverings or visors. Although we will not be actively limiting the number of people in our stores, we will be mindful of overcrowding, and should it be needed during busy periods, we may ask people to wait before entering shops.
We want to create a comfortable experience for all. So, if you can support us by maintaining social distancing when shopping in-store, wearing a mask or face covering, unless exempt, and using the hand sanitiser provided, we would be most grateful.
(Updated November 2021)
Shop opening hours
Barton Road, Bury St Edmunds: open Monday to Saturday from 9am to 5pm. If you have items such as clothing, shoes, bags and linens these can be placed in the pink clothing bags outside the store. If you have any other items to donate, please book a slot at our nearby Donation Centre on Chapel Pond Hill.
St John's Street, Bury St Edmunds: Open Monday to Saturday from 9am to 5pm.
Newmarket: open Monday to Saturday from 9am to 5pm.
Long Melford: open Monday to Saturday from 9am to 5pm.
Haverhill: open Monday to Saturday from 9.30am to 4pm.
Brandon: open Monday to Saturday from 9am to 5pm.
Sudbury: open Monday to Saturday from 9am to 5pm.
Mildenhall: open Monday to Saturday from 9am to 5pm.
If you have donated items for our stores, please remember you can take items to our Donation Centre, on Chapel Pond Hill, Bury St Edmunds. For more information, click here.
The Haven Café
Our Haven Garden Café at our Haverhill Hub is open Monday – Saturday from 10am-4pm.
There is plenty of homemade food to enjoy, with seating inside the café and outside in our lovely garden.
Covid-19 Measures
Although the majority of legal Covid-19 restrictions have been lifted, safety measures are still in place in our Haven Garden Café.
These include:
An NHS test and trace QR code to scan upon arrival
Hand sanitiser available at the entrance
All staff and volunteers are wearing masks
We kindly ask visitors to wear masks when ordering at the counter and moving around the venue
A screen is still in place at the counter
(Updated August 2021)
Browse our range of new goods and buy online 
In addition to items in our stores, we also have a selection of new goods, which as well as being in shops are also available to purchase online.
Browse through our range of gifts, accessories and household items by clicking here.
Our House Clearance Service
Our house clearance team is working as usual following all government guidelines. For more information on house clearances, please click here.
eCommerce 
You can still support the charity through our ebay store. Find out more here: https://www.ebay.co.uk/usr/stnicholashospice.
Please note: we are considering all government advice and guidance. While every effort is being made to ensure this page's information is correct, things are subject to change.
Help the Hospice by becoming a shop volunteer
To help support our shops we are looking for more volunteers.
Our retail volunteer roles offer a lot of variety, and include sorting donations, working on the till, displaying goods for sale, and most importantly ensuring all our customers receive a friendly welcome.
We need people to lend a hand across all of our shops, our Bury St Edmunds stores in Hardwick Parade, Barton Road and St John's Street as well as our shops in Haverhill, Newmarket, Sudbury, Long Melford, Brandon and Mildenhall. At the moment we have a particular need for volunteers in our Brandon and St John's Street shops.
The great thing about our volunteer roles is that we can be flexible, so if you think you can help please get in touch.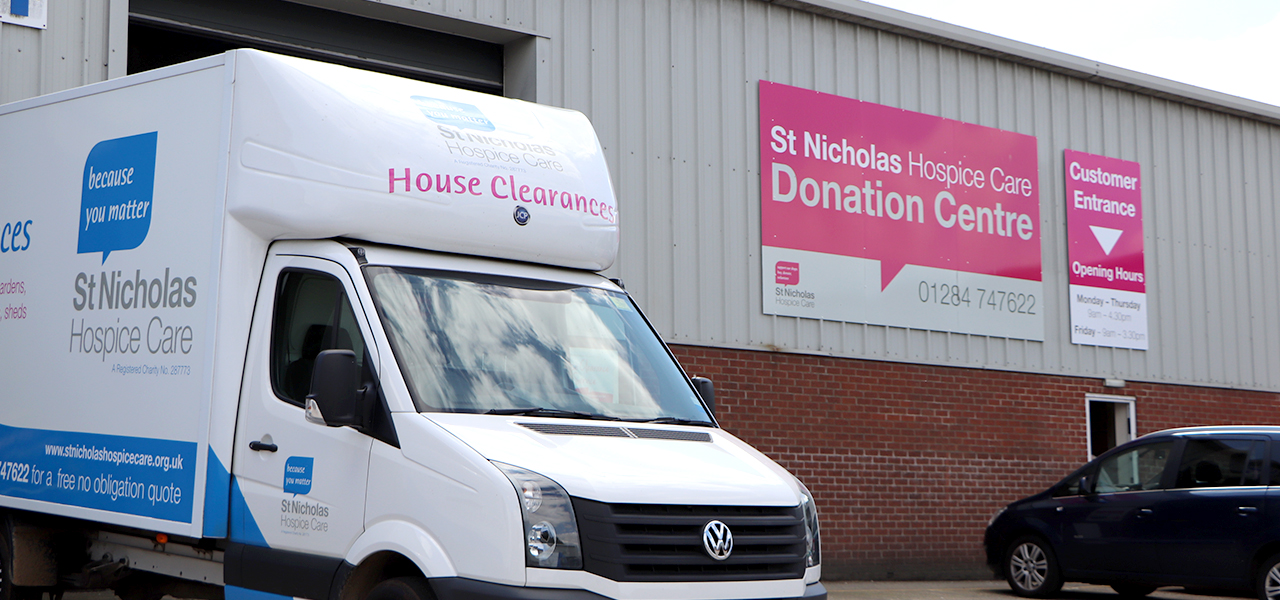 Donation Centre
Our Donation Centre on Chapel Pond Hill remains open, although hours have been reduced.
We are following all government advice and social distancing measures are in place.
To make sure donations can be dropped off as safely as possible a booking system is in operation and we'd ask that you only arrive during your slot time.
If you arrive without a pre-booked slot, unfortunately, we will be unable to accept your items.
To allow for an isolation period, staff will ask you to place your donations in a marked bay.
Staff can help you with heavy items, but you will need to let us know in advance, so we can put the necessary measures in place.
Slots are available Monday, Wednesday and Friday from 9am to 12pm and 1pm to 3pm. You can book your slot by calling 01284 747622.
Please click here to find out more.
Warehouse sales
Our Warehouse Sales are not taking place.
This will remain the case for the foreseeable future. Please keep an eye out for any updates.
House Clearances
Our House Clearance Service is running.
Extra measures are in place and we are adhering to the social distancing rules.
Please contact Darren Devine (House Clearance Manager) on 07969 619647 to arrange a house clearance assessment or to answer any questions or queries you may have.
Please click here to find out more.
eBay and online shop
Our eBay shop, where you can find donated goods, including unique and rare items, is running.
You can visit our shop by clicking here