Need advice?
Call our 24h help line
Call our 24/7 advice line for health care professionals and families if you need support with symptom management and end of life care.
Dying Matters Awareness Week 2020

Every year in May, Dying Matters Awareness Week reminds us of the importance of talking about dying.
This year the week, which has a theme of 'Dying to be Heard', will take place from May 11 to 17.
COVID-19 has, for the moment, affected the way we communicate with relatives and close friends, for some of us it may have made us think more about the loss of loved ones, and perhaps how prepared we are to face death.
Fear can be both a physical and emotional barrier that can cause us to avoid talking about death, leaving important thoughts or wishes unheard.
Everyone should strive to talk together about dying and record important thoughts and wishes.
These conversations will bring comfort and create a sense of control, however big or small, in matters of dying, caring and grief. They give people a voice, an opportunity to be understood and a chance to be heard.
On this page we share some Hospice resources that may offer help and guidance as well as information from Dying Matters and other organisations.
Please note, although we make every effort to ensure these links are accurate, up to date and relevant, St Nicholas Hospice Care cannot take responsibility for pages maintained by external providers.
Hospice resources
Talking Together About Dying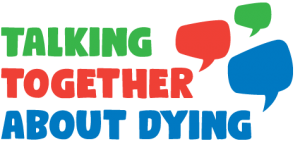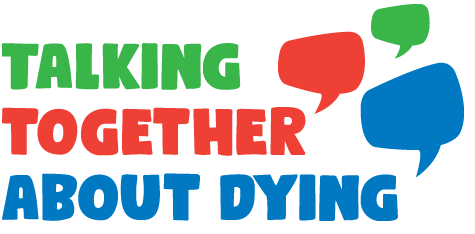 We all need to talk together about dying. Having these conversations is important, it doesn't matter what point we are at on life's journey. Starting these conversations isn't easy, our Talking Together About Dying guidance maybe able to help, find out more here.
Checklist of Wishes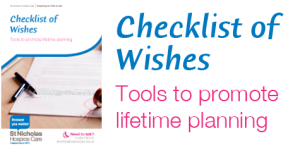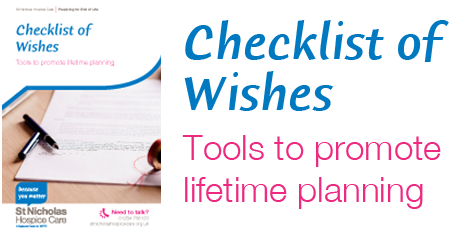 As well as having your Will prepared, the Checklist of Wishes allows you to share other thoughts, such as funeral arrangements and other instructions or considerations that you wish to make known after your death. View the Checklist of Wishes here.
Having conversations with children and young people about dying, death and grief
Don't leave it until someone has died if you can to talk to your child about death and dying before. Preparing them allows families to create an environment of open and honest communication and builds trust.
The Hospice's Family Support Team have pulled some resources together, which can be found by clicking here.
Life's Questions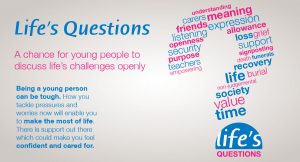 The Hospice's Life's Questions initiative, which gives young people the chance to discuss life's challenges openly by recognising that children need to have the opportunity to talk about difficult subjects such as death, divorce, loss and grief, started in 2017, since then it has continued to grow. 
Staff and volunteers visit schools across the area, giving students of all ages the chance to have discussions in a safe environment. Find out more. 
St Nic's Next Door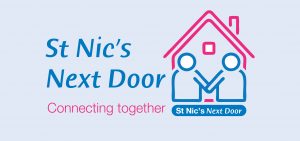 To complement our volunteer Hospice Neighbours, we are now offering St Nic's Next Door. They are a resourceful and well connected team, so if you need our help to support your neighbours, please get in touch. You will receive a warm response, with supportive ideas and links to local community resources. For further detail, click here.
Spiritual support
Our Chaplaincy Team is here to support people in our care, to be a resource for our community and its organisations, offering spiritual care for all. Our role is about being there for people, sharing a journey and supporting them in their hopes and fears, dreams, and religious beliefs. Find out more by clicking here.
Holding hearts and crosses initiative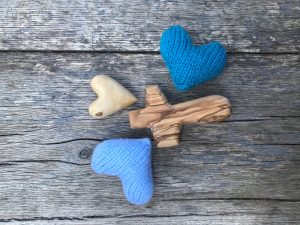 For some time those staying on our ward have been offered the opportunity to hold wooden crosses, this could be during times of prayer or reflection. Many have told us how much comfort they receive from these tokens.
During the early stages of the COVID-19 social distancing measures, Lizzie Cross, the Hospice's events fundraiser, was moved when she saw just how much peace people received from having a wooden cross.
She decided to set up her own fundraising page to pay for wooden hearts and crosses to be made available for every family in the community with a loved one facing a life-shortening illness to have the same opportunity.
"It is a small token, but the idea is big. It is about a heartfelt connection. By providing this service we will be equipping people and providing pastoral and spiritual care on our ward but also within the community that we serve in West Suffolk and South Norfolk.
"The wooden hearts and crosses are durable, and can easily be cleaned, but this won't wash away the sentiments or the comfort and peace that will be found," explained Lizzie.
Since that initial plea, the Hospice has been inundated with support. Our community has come together to help this idea flourish. Local groups have made wooden hearts and crosses, people have knitted hearts and people have kindly made donations too.
If you would like either a wooden heart or cross, please get in touch: spiritualcare@stnh.org.uk
You can read Lizzie's full story by clicking here.
These little hearts have been so lovely, they brought a tear to our eye when we received them, I keep it on my dressing table and we hold them and think of each other. They have touched us both. Wood has such a tactile quality and holding them gives us comfort we are not alone, we are holding each other in a way that we can't do physically, they have given us such comfort.
Materials from Dying Matters
The 2020 theme of Dying To Be Heard focuses on how to help by listening.
How many people want to talk about death, but feel they have no one to talk to about it? How many people are Dying To Be Heard?
Dying Matters has a complete set of leaflets, which may offer help and guidance. Click on the links below to view.
Talking about dying with children
Talking about dying with people affected by dementia

Resources from other organisations
GrieftChat
GriefChat is a safe space for grieving or bereaved people to be able to share their story, explore their feelings and be supported by a qualified bereavement counsellor.
In addition to this, GriefChat can help bereaved people to consider if they need additional support and where to get this from.
GriefChat is free of charge and is open Monday-Friday, 9am-9pm (UK time) to grieving or bereaved people.
If they're not online, you can still send a message using the chat box and we'll reply as soon as we're back online.
Find out more here.
Locally recognised advanced care planning documentation
To plan for future care needs, people living in Suffolk and North East Essex can use documentation recognised by professionals across their local healthcare system. These are known as My Care Wishes in Suffolk, and My Care Choices in North East Essex.
Additional information on advance care planning
UK based charity Compassion in Dying provides resources to support people to make choices at the end of life. Their website has many resources. We suggest the following links as a starting point to the content they've made available.
Making an Advanced Care Plan
Making decisions about treatment during COVID-19
The Groundswell Project
The Groundswell Project, an Australian based organisation, has a mission to support communities to support people to talk more socially about dying and death. They've produced the following resources to equip people to have in-depth and fulfilling conversations about our wishes.