Need to talk?
Call our 24h help desk.
Call our 24/7 advice line for health care professionals and families if you need support with symptom management and end of life care.
Spiritual support for people in our care and in the community
Our Chaplaincy Team is here to support people in our care, to be a resource for our community and its organisations, offering spiritual care for all. Our role is about being there for people, sharing a journey and supporting them in their hopes and fears, dreams, and religious beliefs. Support can be delivered over the phone.
To contact the Chaplaincy team, please email: spiritualcare@stnh.org.uk.
Pause for thought:
"What wisdom can you find, that is greater than kindness?"
We need to try and relax and focus on a place or feeling that brings calm to our body, mind and spirit.
Deep peace of the running wave to you.
Deep peace of the flowing air to you.
Deep peace of the quiet earth to you.
Deep peace of the shining stars to you.
Deep peace of the gentle night to you.
Moon and stars pour their healing light on you.
Gaelic Blessing
Music for reflection and peace
The Chaplaincy team has provided some music that may offer reflection and peace. Please feel free to sing along or listen to well-known hymns 'Amazing Grace' and 'The Lord's My Shepherd', and a piece of instrumental music entitled 'Peace'.
Sometimes when things are happening and so out of our control, we do not know what we need or who could provide support and guidance. The following sections will guide you.
Spiritual and religious support for your loved one
If your loved one belongs to a local faith community they may wish to have some connection with their local minister who they know.
This website will enable you to find your local church. At this time, it is not possible to have someone to visit in person, however, by phone, Skype or Facetime prayers may be said and comfort found.
Holding hearts and crosses
For some time those staying on our ward have been offered the opportunity to hold wooden crosses, this could be during times of prayer or reflection. Many have told us how much comfort they receive from these tokens.
During the early stages of the COVID-19 social distancing measures, Lizzie Cross, the Hospice's events fundraiser, was moved when she saw just how much peace people received from having a wooden cross.
She decided to set up her own fundraising page to pay for wooden hearts and crosses to be made available for every family in the community with a loved one facing a life-shortening illness to have the same opportunity.
"It is a small token, but the idea is big. It is about a heartfelt connection. By providing this service we will be equipping people and providing pastoral and spiritual care on our ward but also within the community that we serve in West Suffolk and South Norfolk.
"The wooden hearts and crosses are durable, and can easily be cleaned, but this won't wash away the sentiments or the comfort and peace that will be found," explained Lizzie.
Since that initial plea, the Hospice has been inundated with support. Our community has come together to help this idea flourish. Local groups have made wooden hearts and crosses, people have knitted hearts and people have kindly made donations too.
If you would like either a wooden heart or cross, please get in touch: spiritualcare@stnh.org.uk
You can read Lizzie's full story by clicking here.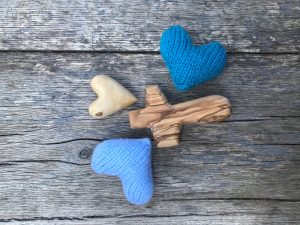 Medical and clinical
The spiritual and religious needs of a person are very important. If the person in your care or family is seeking religious support, it is important to ask questions, to enable you to know what support is wished for and needed. Ask if the person can share what is important to them and what things make them who they are.
Click here for questions might aid you in getting the conversation started.

It is important to listen to what is being said or avoided.
Sources of hope:
What keeps you going in difficult times?
Organised religion:
Are you part of a religious or spiritual community? How does that help you?
Personal spirituality:
What spiritual beliefs do you find most helpful to you personally?
Effect of healthcare:
Is there anything I can do to help you cope spiritually at this time?
For local ministers
The Chaplaincy Team can be a resource to support you as ministers and the local community by signposting to local relevant people or bereavement support. Please email us at spiritualcare@stnh.org.uk.
Some prayers
Please see below a selection of links to different of prayers, which you may find comforting at certain points during this difficult time.
Online live streaming of services
During the Covid-19 outbreak, services and masses are no longer able to take place in the community. We have been made aware that live streaming of services and masses is taking place. These can be viewed using the links below:
https://www.rcdea.org.uk/east-anglia-masses-to-be-live-streamed/
https://www.cofesuffolk.org/bishops/broadcasting-live-services