Need advice?
Call our 24h help line
Call our 24/7 advice line for health care professionals and families if you need support with symptom management and end of life care.
Our vision for a new hospice model
The Hospice's new strategy outlines the approach and direction we will be taking in 2019 – 2020 to deliver a new hospice model – for everyone to matter in life and death.
When we look at the next 35 years, it is hard to ignore the challenges that will greatly affect hospice care. The UK's ageing population is a significant test for health and social care services.
In addition, economic uncertainty threatens future funding. With an increasingly older population, the needs of West Suffolk and Thetford will eventually outgrow our current services. With our founder, Richard Norburn, in our hearts, we continue to be inspired by his vision that there must be something better. Our new strategy is built on what people told us about their experiences and strengthens our approach to working with our community, encouraging us all to act and help each other.
To ensure that more people living with dying, death and grief receive compassionate support we will focus on three ambitions:
To equip people with tools and knowledge, so they are better prepared.
To continue to provide direct care to people who need it.
To continually strive for something better so the Hospice can move forward sustainably, is well-run and it makes the most of your donations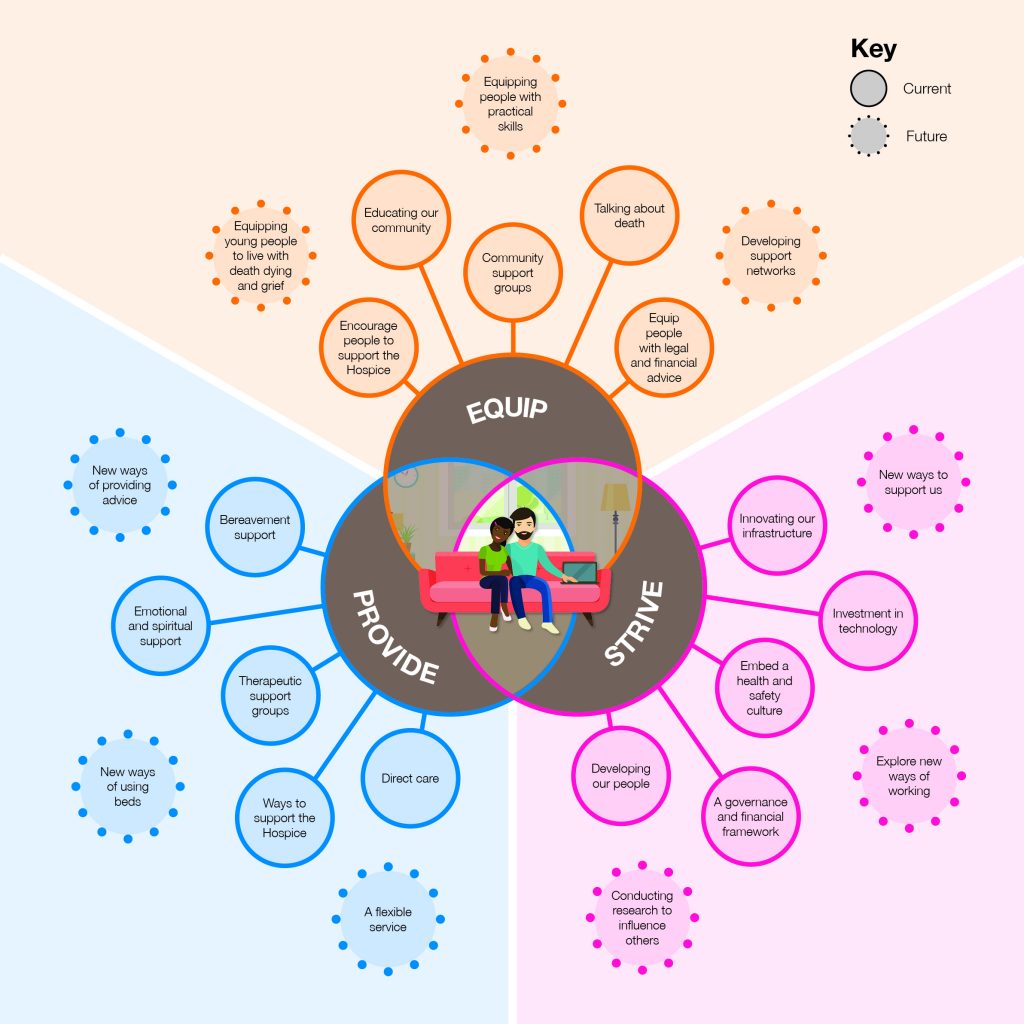 Equip
Current model
• Educating our community
• Community support groups
• Encourage people to support the Hospice
• Talking about death
• Equip people with legal and financial advice
Future plans
• Equipping young people to live with death dying and grief
• Equipping people with practical skills
• Developing support networks
Provide
Current model
• Direct care
• Bereavement support
• Emotional and spiritual support
• Therapeutic support groups
• Ways to support the Hospice
Future plans
• A flexible service
• New ways of using beds
• New ways of providing advice
Strive
Current model
• Innovating our infrastructure
• Investment in technology
• Embed a health and safety culture
• A governance and financial framework
• Developing our people
Future plans
• New ways to support us
• Explore new ways of working
• Conducting research to influence others