Call our 24/7 advice line for health care professionals and families if you need support with symptom management and end of life care - 01284 766133.
Our vision
Our aim is for everyone to have the very best experiences in the final chapters of their life.
This is ambitious and challenging but we believe it is vital. Hospice care must be available to more people across West Suffolk and Thetford who are facing death and dying.
1. Background
2. How we meet the growing need
3. Focus areas
4. The three strategic points in detail
1. Background
St Nicholas Hospice Care has been supporting the people of West Suffolk and Thetford since 1984, delivering care to people in their own homes as well as in outpatient sessions and on our inpatient ward. Every year we support 2,500 people.
The need for palliative care support is likely to increase sharply in the future and we will start to see an increase in the number of deaths.
National data also indicates that the number of healthcare professionals from other organisations will reduce.
Families and communities will play an increasingly important role in caring for people at the end of their lives and we want to support them as they face those difficult challenges.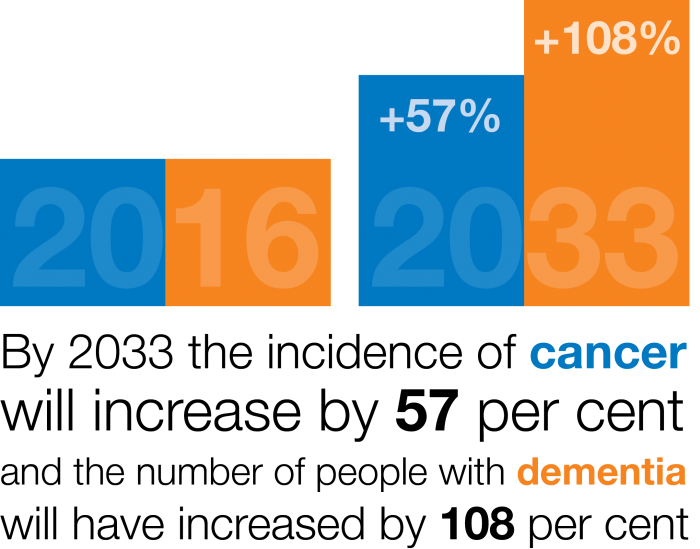 2. How do we meet the growing need?
A community-based approach
We place greater emphasis on working closely with individuals and organisations in local communities.
Our model of delivery centres on people's needs, from earlier in their illness. It means that we can support people in their own homes or wherever they need us – and we can support them right from the point of diagnosis.
To do this we offer a flexible workforce, with staff and volunteers having greater contact with patients and working flexibly in different locations (e.g. in people's own homes, in outpatient services and on our ward).
Working flexibly across different areas will mean more consistency for patients and families and it means they can have support that suits their needs, without our organisational structures getting in the way.
It is important to remember that more than half of our community still die in institutions, so we are also developing our support for hospital and care home colleagues.
3. Focus areas
The three main themes that sit behind our approach are:
Community partnership – helping more people to access end-of-life care in their own homes and communities.
Clinical care – improving access to specialist clinical care
Education – helping people to understand death and dying better and improving end-of-life skills in other organisations (e.g. care homes)
4. The three strategic points in detail
Community Partnership
Our aim is to help more people to be able to access end-of-life care and advice in their own homes and communities.
We will expands our services in different locations and support people to maintain their independence. We will offer a number of strategies(practical, medical, and psychological) to help people stay independent in their own environment. We will also support families so they can continue care for their loved ones. We will help people to develop coping strategies and skills to deal with progressive ill-health, death dying and bereavement.
By working more closely with people in their communities we would hope to encourage more people to think about and talk about death. These discussions can have a major impact on how people die.
Clinical care
Our aim is to improve our community's access to specialist care.
We will:
Provide a 24-hour, seven days a week advice line
Enhance our First Contact service to ensure people access the right support for them at the right time
Provide a skilled work force that works flexibly across all settings
Clinical care is the direct care provided by our specialist clinical staff, in a variety of locations. In line with national guidance we are developing a service that ensures specialist hospice support is available to people wherever they are whether at home, in a care home, in hospital or with no home.
The focus of our specialist staff will be to continue to treat those with complex problems and also advise people and professionals about dying. This would ensure death is as dignified, pain-free and peaceful as possible.
Education
Our aim is to improve end-of-life skills within local organisations and raise public awareness about dying and bereavement.
We want to encourage people to talk about death and dying, to make plans and discuss wishes and fears.
Research is a significant part of hospice work and will help to ensure the care and work of the Hospice is effective and can influence the work of others. Educating others about our work and dispelling some of the myths around hospice care is a vital part of what we do.